WWII veteran says nobody helped him after he was carjacked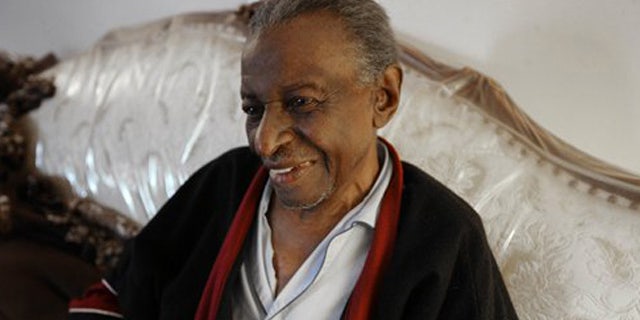 DETROIT – A World War II veteran said nobody helped him in the minutes after he was attacked and carjacked during daylight at a busy Detroit gas station and he had to crawl across a concrete parking lot to get help.
A roughly four-minute surveillance video shows 86-year-old Aaron Brantley struggling to get from the fuel pump to the gas station's door as people walked and drove by him Wednesday morning. The video was first obtained by the Detroit Free Press.
"I'm crawling and trying to get in the filing station. [People] just walking right by me and going on in the filling station there ... If I saw somebody crawling like that on the ground, I would have stopped myself," Brantley told myFOXdetroit.com
Brantley was unable to walk because his leg was broken in the attack. The carjacker knocked him down, took his keys and drove off in his car about 10:40 a.m.
"I was trying to go in ... and see if somebody could call the police and an ambulance because I couldn't stand. I had to crawl -- I tried two or three times to get up," Brantley said Saturday. He said he was on way home from Bible study when he stopped to put gas in his 2010 Chrysler 200, which he recently bought to replace another car that had been stolen.
Brantley said as he approached the building, he asked a woman to open the door for him. He said at first it appeared she wasn't going to but she did and then kept walking. He found it distressing that nobody helped him.
"Any time a person is crawling on the ground, you know something happened to them," Brantley said.
Station manager Haissam Jaber said he didn't see the attack but called 911 after a customer alerted him. As Brantley sat on rock salt, waiting for an ambulance to come, he offered money to a stranger to drive him to his house a few blocks away. The customer refused the money and drove Brantley home, where an ambulance took him to the hospital.
Jaber said he also gave police another surveillance video from just before the carjacking that shows Brantley coming in to pay the cashier. A man looked at Brantley and left without buying anything, then headed in the direction from which the carjacker approached Brantley and his car, Jaber said.
Jaber said violent crime isn't common at the gas station, which is next to the University of Detroit Mercy campus. He said there was a carjacking about four months ago, but it happened at 1 a.m. and nobody was attacked.
Detroit Police spokeswoman Sgt. Eren Stephens said Saturday there have been no arrests in the case. The Free Press reported that a man later found Brantley's phone number in his Bible on the stolen car's front seat and called him. The car had been abandoned hours later and a few miles away with its wheels and radio missing.
Brantley raised eight kids, served in the military and is a retired welder. His brush with the cold-hearted criminal left him with a broken leg, but he holds on to his sense of humor.
"I'm glad that [he] didn't shoot me. I wouldn't be laughing. I'd rather laugh now and I still got my life."
The Associated Press contributed to this report.
To read more on this story, see the myFOXdetroit.com article here.
86-Year-Old Vet Injured during Carjacking at Detroit Gas Station: MyFoxDETROIT.com