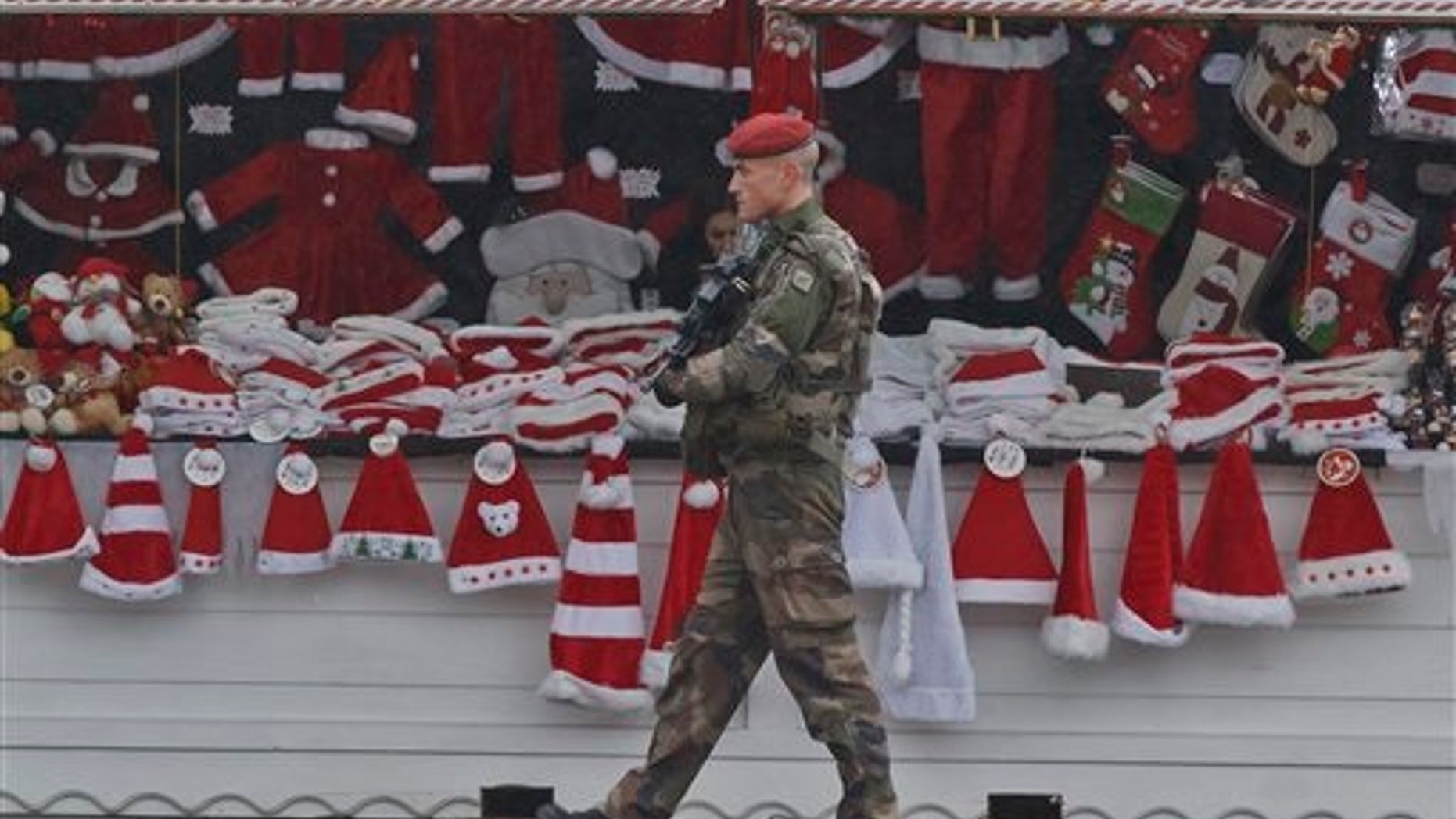 Europe remains on edge for more terror attacks today as Belgium kept its highest state of alert through the end of the week for Brussels suggesting authorities remain worried about the possibility of an imminent terror attack.
One of the men involved is thought to be at large still in Belgium.  Salah Abdeslam is considered dangerous and may have abandoned his plans to take part in the Paris attacks that left 130 dead a week and a half ago.
The Wall Street Journal today writes, "An explosive vest suspected of belonging to a Paris attacker still at large was discovered on the French capital's outskirts Monday, while Belgian authorities said they would keep Brussels on lockdown for a fourth day as they try to head off what they called a similar attack."
Four of the terrorists in Paris came from Belgium.
Another suspect appeared before a judge today in France. Jawad Bendaoud was handed over to an anti-terrorism judge in Paris. He is accused of allowing the suspected mastermind safe harbor.
French President Francois Hollande is in the United States today trying to shore up an anti-ISIS coalition with the Russians. Hollande and President Obama will hold a joint news conference today at 11:30am that we will carry live. The men are expected to take questions, and President Obama's commitment to fighting radical Islam is expected to questioned.
1130EST -- POTUS holds press conference with French Pres Hollande. VPOTUS also attends. East Room. LIVE
The U.S. State Department imposed an unusual travel warning to all Americans traveling overseas. The worldwide travel alert comes as the threat from ISIS is expanding. The State Department says terror groups continue to plan attacks in multiple regions.
Turkey shot down a Russian warplane near the border with Syria. Turkey says it warned the Russian pilots three times to leave Turkish air space. The two pilots are believed to have successfully parachuted out of the disabled aircraft, but at least one was shot and killed by Syrian rebels as he fell to earth. Turkey is a member of NATO.
Secretary of State John Kerry is meeting with Israeli PM Benjmain Netenyahu today to try and stop renewed anti-Israeli violence. 5 Israeli Jews and an American student studying in Israel have been killed by Palestinians in the past five days.
We get several important reads on the U.S. economy today including November consumer confidence numbers, and a read on third quarter GDP. Yesterday's mega merger of Pfizer and Allergen weighed on stocks as both company's stocks fell. Pfizer made the $160 billion dollar purchase in order to escape U.S. taxes. That has raised the ire of presidential candidates including Bernie Sanders and Hillary Clinton.
Clinton holds a campaign event at 1:30pm ET in Boulder, Colorado.
Chris Christie and Jeb Bush have events during our 1pm hour today.
Brand new Quinnipiac University polling out from Iowa today. Trump gets 25% and there's a new number two.. Senator Ted Cruz gets 23%!
Carson gets 18% and Rubio gets 13%.  More bad news for Jeb Bush he goes from 5% support last month to 4% this month.
Thousands remain without power in Washington state nearly a week after a major windstorm. The grid was damaged. As many as 29,000 don't have lights or heat in subfreezing temps.