Woman in mysterious surveillance video victim of sexual assault, broke free from bondage cuffs: police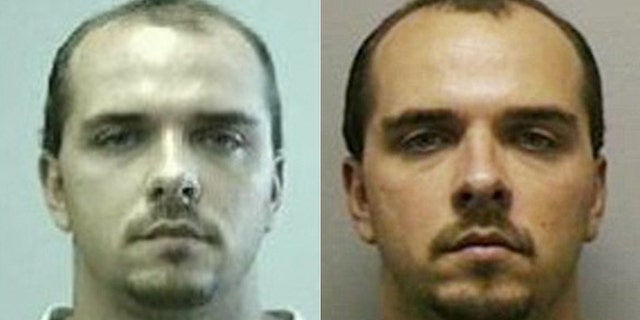 A woman, who was seen in surveillance video ringing doorbells in Texas, told police she was a victim of sexual assault and had broken free from bondage handcuffs used to restrain her.
Officials launched a search for the woman earlier this week after she was captured on video ringing doorbells in the Sunrise Ranch, a Montgomery subdivision located 50 miles north of Houston.
The woman, clad in only a T-shirt and with restraints hanging from her wrists, left before the homeowner could answer the door.
On Wednesday, police announced they found the woman. Her boyfriend, Dennis Ray Collins, 49, was found dead of a self-inflicted gunshot wound at his home in the same subdivision.
The Montgomery County Sheriff's Office released more details about the case Thursday.
WOMAN IN MYSTERIOUS 'DOORBELL VIDEO' IDENTIFIED AS DOMESTIC VIOLENCE VICTIM
"The female described the restraints seen on the previously released video as restraints commonly used in private intimate encounters," Lt. Scott Spencer told reporters.
It was not immediately clear if she was held against her will.
Spencer said she was able to "break free" from the restraints and flee the home. The woman rang the doorbells of two neighbors that night. When no one answered, she returned back to Collins' home. She then got a car and drove to the Dallas-Fort Worth area.
"Due to the allegations made by the female of sexual assault we will not be naming the victim in this case," he continued.
MAN ACCUSED OF STEALING TEEN'S MAGA HAT INDICTED BY GRAND JURY
The woman was described as a 32-year-old female from the Dallas area and is safe with her family.
Spencer said Collins left a suicide note, which helped officials identify the woman.
"In his notes, the details that were there show he's obviously extremely upset about what has occurred. He laid, at fault for what he'd done. He admitted he'd did what he did to her -- as seen in the video and I think that played a part in him committing suicide," Spencer said.
Spencer said the woman is "upset" and "embarrassed" about the incident.
"She's very distraught about this. She's upset, she's embarrassed, she's in shock," Spencer said.
Collins has a history of sexual violence, FOX 26 Houston reported. He was arrested in 2000 for "attempt to commit sexual assault."
Fox News' Samuel Chamberlain and Ryan Gaydos contributed to this report.