With major roads swamped, photographer flies to Port Arthur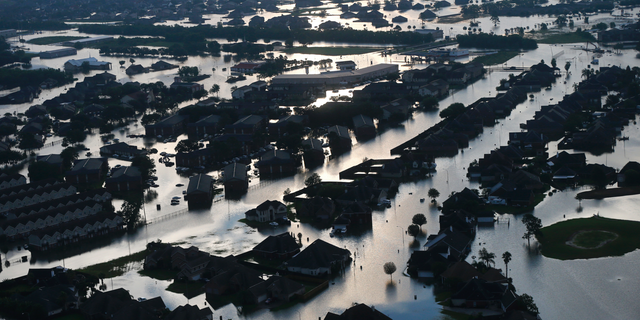 Port Arthur's major roads were swamped by rising waters brought by Harvey, and there were few images showing the devastation that virtually cut off the East Texas city.
So as the sun rose Thursday, that's where Associated Press photographer Gerald Herbert took his plane first.
"We heard Port Arthur got hit the worst," Herbert said, a few hours after taking a more than 200-mile aerial journey over Port Arthur, Beaumont and other communities near the Texas and Louisiana coasts. "It seemed like no one could get there."
Herbert, who joined the AP in Washington in 2002 and has worked in the AP's New Orleans bureau since 2010, got his pilot's license four years ago.
"I fell in love with a woman in Shreveport, and I found a better way to get there," he said. The two are now engaged.
While he was finishing his flight training, Herbert bought a Cessna 172, a four-seater single-engine airplane. That's the plane that his friend and fellow pilot Juan Asturias flew on Wednesday, meeting Herbert around dusk in Lake Charles, Louisiana.
They spent the evening planning their flight and were wheels up around 7 a.m., with Asturias at the controls so Herbert could safely shoot pictures.
Port Arthur sits on the Louisiana line 90 miles east of Houston, and the two found large parts of it underwater. Herbert thought the pictures were too important to hold until they got back on the ground. He transmitted them immediately from the air.
"We just kind of circled over Port Arthur while we had a good cell signal," he said.
That done, they went off to check out other communities, including Beaumont and Orange, Texas, as well as Sabine Lake, where they again found neighborhoods, businesses and roads under water. In Louisiana, they found that Holly Beach and Cameron had escaped the flooding.
"I was trying to be eyes and ears as a second navigator, as a co-pilot, for Juan as well, because there was a lot of helicopter traffic in the area," he said. "National Guard, Coast Guard, there were a lot of rescue helicopters flying in and out."
Going up in his airplane gave Herbert the chance to put his many skills to work: shooting video and still photographs, using pilot skills and looking out for traffic.
"It's a mark of pride to be able to get first light and be able to get pictures no one ese could get because of my added skill set of being a pilot with access to a plane," he said.
But he said his on-the-ground work during Harvey is what will stick with him.
Herbert has been working since Sunday to cover the storm, and has been traveling with professional rescue teams as they work to get people out. On Wednesday, he joined members of the Louisiana Department of Wildlife and Fisheries, the Florida Fish and Wildlife Conservation Commission and the Louisiana National Guard in Orange, Texas, for a joint rescue of eight elderly people in an assisted living home.
"What I saw was strength and ability meeting frailty and need," he said. "It was something I'll never forget."