Why was Capt. Zoe Kotnik, first female Viper demo team commander, ousted after 2 weeks?
The day she was announced as the first female pilot to lead an elite Air Force demonstration team, Capt. Zoe Kotnik was likened to a comic book superhero and soon featured almost daily in social media posts promoting the service.
But by Monday, just two weeks after her Jan. 29 appointment to head the Air Combat Command F-16 Viper demonstration team, the Air Force said Kotnik had been relieved of her command due to a "loss of confidence" in her ability to lead. Col. Derek O'Malley, the 20th Fighter Wing commander, alluded to mistakes the pilot made, but he did not provide a specific reason why she was suddenly removed.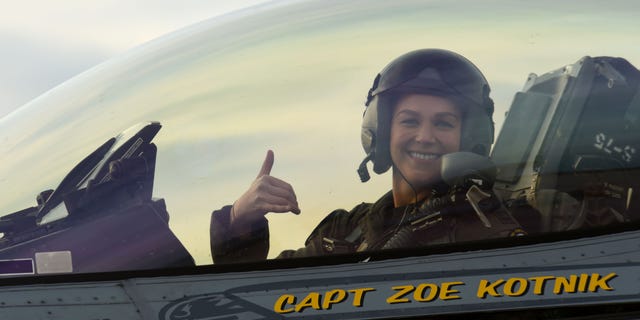 "I removed Capt. Kotnik from her position as the commander of the Viper Demo team [Monday], because I lost confidence in her ability to lead the team." O'Malley said. "I know that loss of confidence is a common response from the Air Force, whenever someone is removed from a command position, and I think it's important to understand why we take this approach."
STRANGERS WHO ATTENDED AIR FORCE VETERAN'S FUNERAL 'CAME TOGETHER AS AMERICANS,' SAYS ORGANIZER
Kotnik's historic appointment was widely promoted by the military, and she even appeared as a comic book-like character in the Viper demo team's "Captain Marvel"-inspired video Jan. 29. The pilot continued to appear in social media posts until Monday.
"Flying high! @USAirForce Capt. Zoe "SiS" Kotnik, performs a precision flying demonstration over #ShawAFB, S.C., as part of the @USAF_ACC's F-16 @ViperDemoTeam," the U.S. Department of Defense account tweeted on Feb. 6 along with a photo of Kotnik.
The Air Force pilot was appointed to the role after eight years in the military. Using the call sign SiS, Kotnik was the Air Force's first female single-ship aerial demonstration pilot with over 1,000 flying hours.
She previously told Live Airshow TV about how she got her call sign.
"The story that I can share about the call sign is that I've been one of the only women in most of my squadrons in the Air Force, through pilot training and in most of my past squadrons," she said. "So I am the little sister of the squadron."
Kotnik graduated from the Air Force Academy in 2011 and earned her wings in 2013. She spent a year in South Korea at the Kunsan Air Base flying F-16s with the 35th Fighter Squadron, her biography stated. Most recently, Kotnik was on missions in support of Operation Noble Eagle, the air defense effort created after the Sept. 11, 2001 terror attacks.
THOUSANDS ANSWER CALL TO ATTEND 'UNACCOMPANIED' AIR FORCE VET'S TEXAS FUNERAL
The Wisconsin native went through extensive training that included four certifications, off-station training flights and more than 30 practice missions before being named the commander of the Viper demo team. Kotnik previously said she hoped to influence those who had yet to enter the service with her accomplishments.
"What I'm looking forward to most is the potential to have an influence on younger generations," Kotnik said in an Air Combat Command news release. "I know firsthand how impactful airshows can be and what a difference it makes to young people to see just one example of what they too can do and who they can become. I hope to be a source of inspiration and motivation they can draw from to apply in their own lives."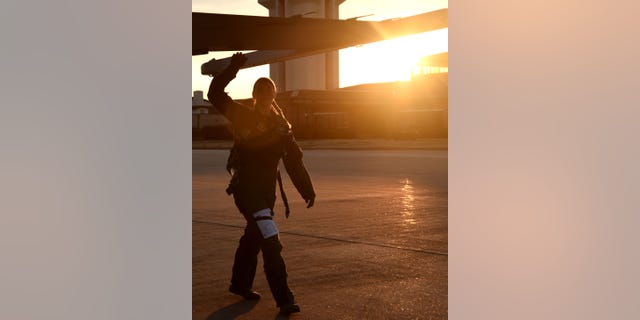 As Viper Demo team commander, Kotnik was expected to lead 20 show site visits, with the first at Naval Air Station Key West in Florida on March 30 and 31.
CLICK HERE TO GET THE FOX NEWS APP
O'Malley said Monday he hoped Kotnik will continue to serve the Air Force despite being relieved of her duties.
"In these types of situations, I never forget that we're dealing with real human beings, that I care deeply about, and that we are charged to take care of. This will be a difficult time for Capt. Kotnik, but she's surrounded by wingmen that will help her every step of the way," O'Malley said.
Kotnik has not addressed her removal and appeared to have deleted her social media accounts following Monday's announcement. Fox News' call to her was not answered.
Air Force spokeswoman Maj. Malinda Singleton said they did not have further comment on the matter beyond their initial statement.