What We Know: Gay nightclub shooting deadliest on US soil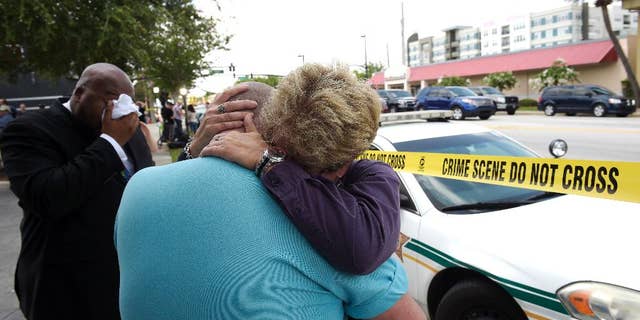 NEWYou can now listen to Fox News articles!
A gunman opened fire at a gay night club in Orlando, Florida, early Sunday, killing 50 people and wounding 53 more before he was killed in a shootout with SWAT team members. Authorities say he may have had a connection with radical Islamic terrorism, and his father said he became angry a couple of months ago when he saw two gay men kissing. Here's what we know about the deadliest mass shooting in U.S. history:
___
MASS CASUALTIES: At least 50 people are dead, and 53 were hospitalized, most in critical condition, officials said. A surgeon at Orlando Regional Medical Center said the death toll was likely to climb.
___
THE SHOOTER: Authorities have identified the shooter as Omar Mateen of Port St. Lucie, Florida. His father, Mir Seddique, told NBC News that his son got angry when he recently saw two men kissing in Miami a couple of months ago. He said that might be related to the attack. Seddique said the attack had nothing to do with religion.
___
ACT OF TERROR?: Orange County Sheriff Jerry Demings called the attack a "domestic terror incident." Other authorities said they are looking into whether the attack was an act of domestic or international terror, and if the shooter acted alone. FBI agent Ron Hopper said there was no further threat to Orlando or the surrounding area. When asked if the gunman had a connection to radical Islamic terrorism, Hopper said authorities had "suggestions that individual has leanings toward that."
___
WHAT HAPPENED: Police say Mateen opened fire on patrons early Sunday. He also exchanged fire with an officer working at the club about 2 a.m., when more than 300 people were inside. Police say the gunman then went back inside and took hostages. Police sent in a SWAT team to rescue hostages about 5 a.m. and Mateen died in an exchange of gunfire with SWAT officers.
___
SECOND DEADLY SHOOTING IN TWO DAYS: The attack follows the fatal shooting late Friday of 22-year-old singer Christina Grimmie, who was killed after her concert in Orlando by a 27-year-old Florida man who later killed himself. Grimmie was a YouTube sensation and former contestant on "The Voice."