Washington judge chases down inmates who ran from courtroom, bolted into stairwell
In this judge's courtroom, all must rise -- but better not dare make a run for it.
Lewis County Judge R.W. Buzzard was forced to ditch his robe and leap into action Oct. 16 when two inmates attempted to flee his courtroom, bolting out a door and into a hallway.
"I was shocked at first," he told KOMO News. "I didn't know what to think."
The inmates, 22-year-old Tanner Jacobson and 28-year-old Kodey Howard, were still handcuffed when they attempted to make their escape. In courthouse video released Tuesday, Howard can be seen falling on his face and losing a shoe as he attempts to follow Jacobson. The pair then heads into a staircase and down three flights to try to make it outside.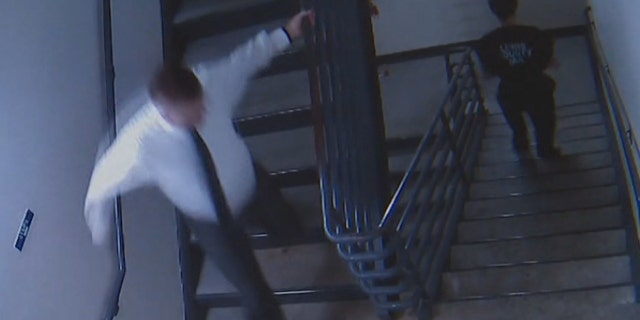 "Once I got to the stairwell I knew I was going to be able to catch the one that was just in front of me because I immediately started gaining on him," Buzzard said. "I was yelling at them all the way down the stairs to 'stop, you're making things worse.'"
The judge was able to grab Howard and hold him in a bear hug just as he was about to exit the courthouse in Chehalis, located about 90 miles southwest of Seattle. Jacobson was able to get outside but was apprehended by authorities a few blocks away.
KENTUCKY MAN ATTEMPTS TO FLEE COURTROOM AFTER PRISON SENTENCE
Chief Deputy Dusty Breen of the Lewis County Sheriff's Department told KOMO the judge's efforts were "definitely a help" in getting the inmates back into custody -- but this was not the first time that Buzzard has gone beyond his duties on the bench.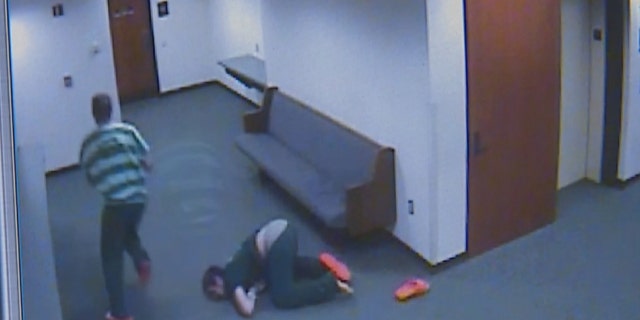 In April, he had to wrestle a man to the floor after the man attacked an attorney. There wasn't security at the time due to the case being a civil matter.
"I found out at that time that grappling in a robe is very restrictive," he told KOMO. "I couldn't imagine running down the stairs and being in a robe, so I got it off as soon as I could and went after him."
The judge said county officials are working to make courtrooms secure, but funding for additional staffing is a challenge. Jacobson and Howard are now facing charges for second-degree escape.