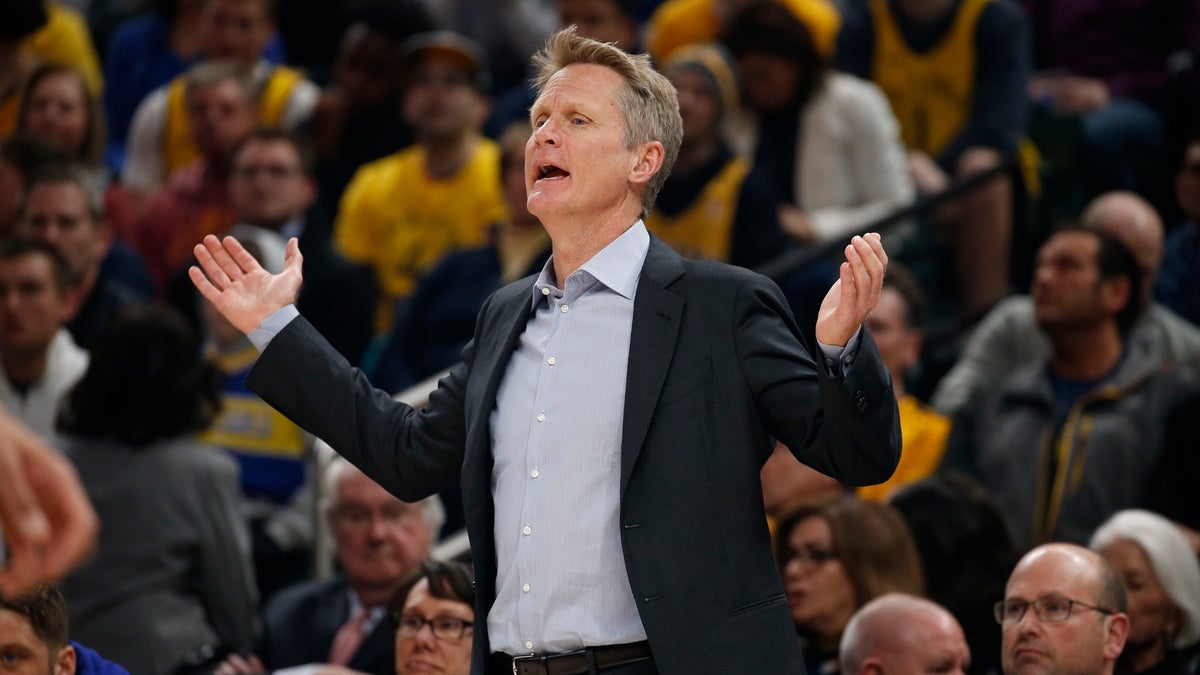 Golden State Warriors Coach Steve Kerr accused the NFL of promoting "fake patriotism" after the football league moved to fine players and personnel who don't stand for the national anthem.
Kerr, 52, called the new NFL mandate "idiotic" and "just typical of the NFL," ESPN reported.
"They're just playing to their fan base, and they're just basically trying to use the anthem as fake patriotism, nationalism, scaring people," Kerr said. "It's idiotic, but that's how the NFL has handled their business."
The league has adopted a new policy which mandates that players and personnel have to "stand and show respect for our flag and the anthem" or be fined. Those who do not wish to stand for the national anthem can stay in the locker room "or in a similar location off the field" until after the song is finished playing, the NFL said.
Kerr contended that the NBA better understands why players have knelt during the "Star-Spangled Banner" better than the NFL.
"I'm proud to be in a league that understands patriotism in America is about free speech," Kerr said. "It's about peacefully protesting. I think our leaders in the NBA understand that when an NFL player is kneeling, they were kneeling to protest police brutality, to protest racial inequality. They weren't disrespecting the flag or the military, but our president decided to make it about that, and the NFL followed suit and pandered to their fan base by creating this hysteria."
After the NFL announced its new policy, President Trump praised the league, telling Fox News the team owners "did the right thing." He also credited "the people" for enacting the new mandate.
"They're just playing off their fan base, and they're just basically trying to use the anthem as fake patriotism, nationalism, scaring people."
"I brought it out. I think the people pushed it forward," he said.
Kerr previously defended NFL players who chose to protest during the national anthem in a piece for Sports Illustrated -- where he also discussed how his team would not visit Trump in the White House as is customary for championship teams. He said he was "crushed" when Trump called the protesting players "sons of b--ches."
"Just think about what those players are protesting. They're protesting excessive police violence and racial inequality. Those are really good things to fight against," he said. "And it's just really, really upsetting that the leader of our country is calling for these players to be 'fired.'"
He's also criticized Trump's travel ban and accused the president of having "routinely used racist, misogynist, insulting words."
The Golden State Warriors are defending their 2017 championship title in the NBA playoffs.
Fox News' Kathleen Joyce contributed to this report.