GRAPHIC VIDEO: Baltimore high school student allegedly punches teacher in face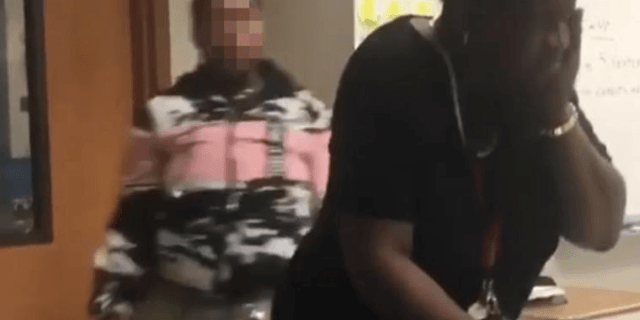 The video of a Baltimore high school student allegedly punching his high school teacher went viral after it was posted online Wednesday, reports said.
The alleged incident occurred at Frederick Douglass High School.
WARNING: GRAPHIC LANGUAGE, VIOLENCE
The video appeared to show two students arguing with each other while standing close to the teacher.
One student backed away while the other appears to hit the teacher in the face.
The student left the classroom while shouting profanities. She didn't retaliate but follows the student out the door.
WBAL-TV 11 News reported that the teacher is a "highly regarded state science educator and a respected elder at a church." The teacher was checked by a doctor and will not return to the classroom for the rest of the week, WJZ-TV reported.
CALIFORNIA MUSIC TEACHER ARRESTED AFTER VIDEO CAPTURES HIM PUNCHING STUDENT
Baltimore Teachers Union Marietta English called the video "absolutely deplorable."
"Our teachers and paraprofessionals work too hard and sacrifice too much of their time, creativity and genuine love for teaching to be treated in such a manner by anyone, including their students," English said.
Baltimore school administrators are investigating the incident and will apply disciplinary action in accordance with the school system's code of conduct, the Baltimore Sun reported.
By late Wednesday the video had racked up nearly 85,000 views on Instagram.
The Associated Press contributed to this report.