Vermont colonel forced to resign after flying F-16 to meet love interest: report
NEWYou can now listen to Fox News articles!
The former commander of the Vermont Air National Guard was forced to resign in 2015 after flying an F-16 fighter jet to a work meeting in Washington, D.C., that doubled as a romantic rendezvous, according to a report.
Col. Thomas Jackman - whose aviator callsign was reportedly "Snatch" - had been exchanging flirtatious emails with an unidentified Army colonel who worked at the Pentagon for two months before they arranged to meet in January 2015, when he would be in town for a work conference, according to the report by local Vermont website VTDigger, which cited three former Guard members with knowledge of the incident.
Jackman, who was married at the time, told the outlet that he was not involved with the female Army colonel. He reportedly declined to comment on whether the trip forced him to retire.
Jackman, 55, the commander of the 158th Fighter Wing, reportedly used his authority to fly an F-16 nearly 500 miles from Burlington to Andrews Air Force Base, located just outside Washington D.C.
When bad weather forced the base to shut down the runway the morning of the trip, Jackman wrote to the woman that he would possibly fly to Langley Air Force Base instead. It was unclear where he landed, the report said.
NATIONAL GUARDSMAN AT BORDER CHARGED WITH ALLEGED SEXUAL ASSAULT OF FEMALE COLLEAGUE
In a statement to the website, 1st Lt. Mikel Arcovitch, the Guard's media spokesman, said it's "not common practice" for pilots to fly fighter jets to work conferences.
However, "when it has occurred, pilots conduct training and complete annual requirements to and from the conference location," he added.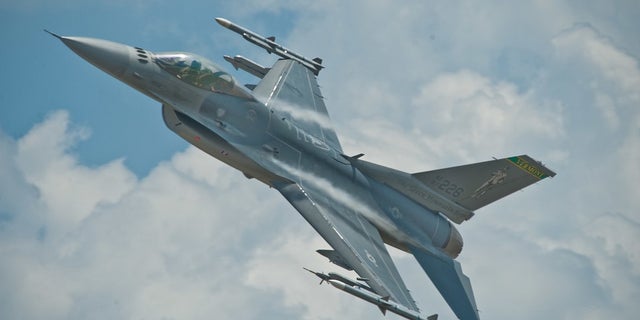 The Air Force and Vermont Air National Guard did not immediately respond to Fox News requests for comment.
The hourly operating cost of the F-16 is about $8,000, according to the Department of Defense. It was not immediately clear if Jackman was required to reimburse the Guard for flying the plane.
Though Jackman stayed on the base the night after the conference, he also booked hotel rooms in Alexandria, Va., and Washington D.C. for stays on the 27th and 29th of January, the site reports.
MISSOURI AIR NATIONAL GUARD MEMBER STABBED TO DEATH IN APPARENT ROAD RAGE INCIDENT, MYSTERY SUSPECT AT LARGE
Guard leadership somehow got wind of the trip and ordered him home on a commercial flight, the report said. Another pilot retrieved the jet.
Jackman, whose 32-year military career included two tours each in Iraq and Afghanistan, was pressed to step down and given advanced notice so he could retire with full benefits, the report said. He was reportedly allowed to keep his security clearance.
Vermont's adjutant general, Maj. Gen. Steven Cray said rank and file servicemembers had lost confidence in the colonel's leadership.
Jackman now works as a postmaster for the U.S. Postal Service in Vermont.