Venezuela's VP alleged front man in Miami piling up properties since 2011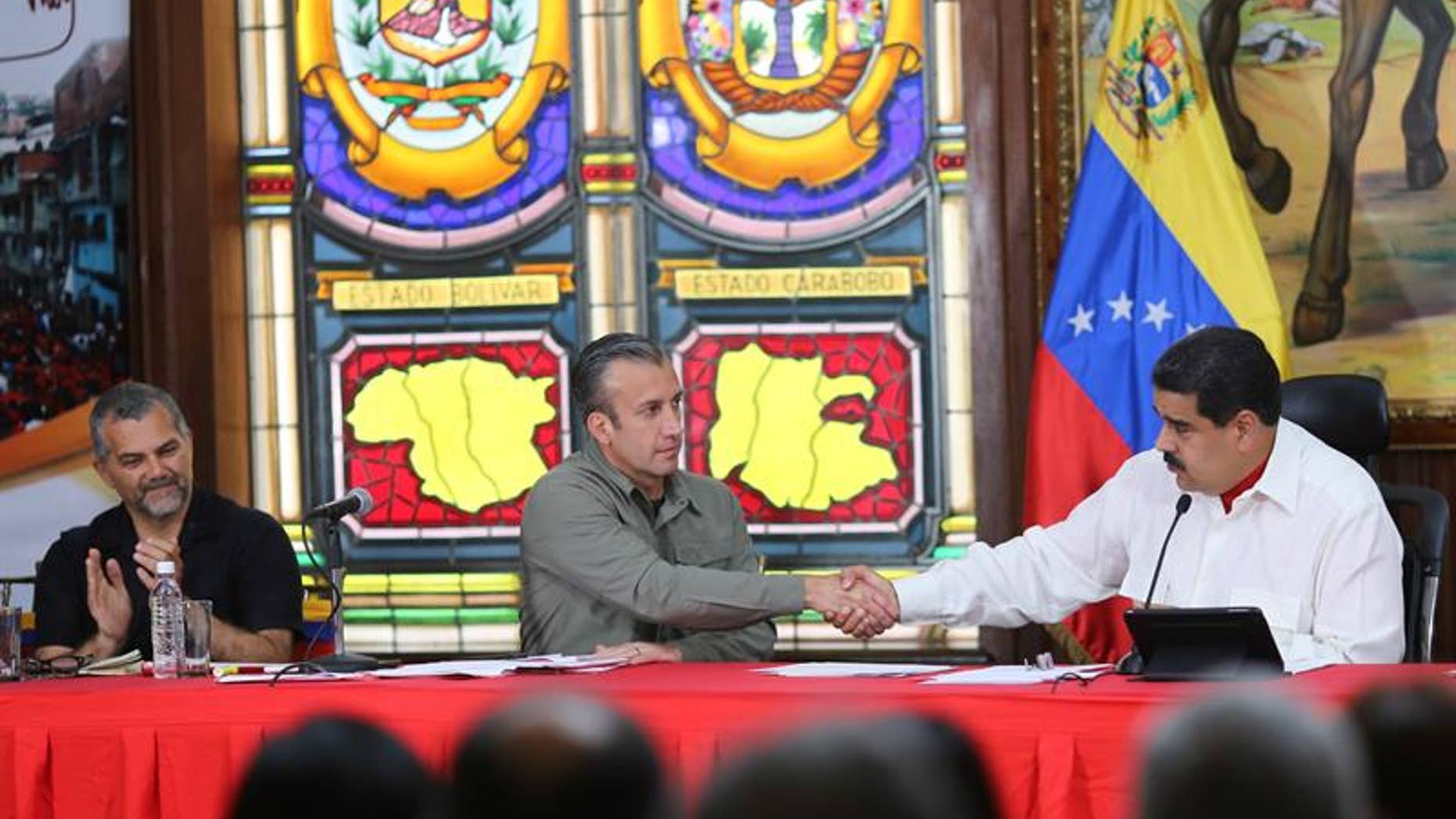 MIAMI – Samark Lopez, a multimillionaire businessman accused last week by the U.S. government of being a front man for Venezuelan Vice President Tareck El Aissami drug trafficking activities, has lived an opulent lifestyle in Miami that included a short stint as the impresario of a prominent local bank, as well as plunking down $16.5 million in cash for a waterfront palace last year.
Lopez, 42, was designated for providing material assistance, channeling funds and laundering money on behalf of El Aissami's international network, according to a statement by Treasury's Office of Foreign Assets Control, or OFAC.
NEW VENEZUELAN VP'S ALLEGED TIES WITH HEZBOLLAH, RADICALISM RAISE CONCERNS
Lopez did not respond to emails and phone messages seeking comment, but denied any wrongdoing in a statement posted to his business website. He is an entrepreneur who has made millions of dollars from a variety of businesses involving petroleum, telecommunications and engineering.
"Mr. Lopez is not a government official and has not engaged in drug trafficking," the statement said. "The listing is unjustified in targeting a legitimate businessman, like Samark Lopez, who has played a key role in helping to support the future of Venezuela."
As part of the sanctions against El Aissami and his alleged front man, the U.S. government has frozen the assets of five limited liability companies in Florida owned by Lopez. Three of those companies own three condominiums in a luxury Miami tower and another firm owns a $9 million Gulfstream 2 jet.
Miami-Dade property records show Lopez purchased his first condo, a two-bedroom unit on the 46th floor of the Millennium Tower Residences at 1425 Brickell Avenue, for $1.5 million on Feb. 28, 2011 under his name.
NEW 'ANTI-COUP SQUAD' IN VENEZUELA MONITORS, HUNTS OPPONENTS PERCEIVED AS RISK
The following year, on July 31, 2012, he sold it to his company, 1425 Brickell Avenue 46B LLC, for $750,000.
Lopez's 1425 Brickell Avenue 63F LLC also bought a three-bedroom condo in the same building for $1.7 million. On Nov. 18, 2013, another Lopez-controlled holding company purchased a unit on the 64th floor of Millennium Tower for $3.4 million. The condo is also a three-bedroom home.
In addition to investing in Miami real estate, Lopez was also part of a group that bought majority shares in a local bank founded by Cuban American exile leader Amadeo Lopez-Castro (no relation). According to a 2012 annual report submitted to the U.S. Federal Reserve, Lopez and his partners acquired 91 shares of Intercontinental Bank West Miami. The document shows that Lopez owned 8.52 percent of the shares. However, two years later, Lopez no longer appeared on the list of the bank's owners.
Last year, through another shell company he controls called Leucadendra 325 LLC, Lopez purchased a Mediterranean-style mansion with nine bedrooms and nine bathrooms in the ultra-exclusive neighborhood Gables Estates. Leucandendra 325 paid $16.5 million in cash for the estate home situated on a lake, which was first reported by Univision. The property, which is not subject to the U.S. government's sanctions, features an infinity pool, a movie theater, marble floors, elevator and a pier facing a lake.
VENEZUELA'S VP SHRUGS OFF DRUG SANCTIONS AS US WEIGHS POLICY
Univision also posted photos from the social media accounts belonging to Lopez's wife that show the couple enjoying a rich lifestyle, from partying on a luxurious yacht to boarding a private jet with friends. The Venezuelan businessman is seen sporting Richard Mille wrist watches, one valued at $665,000 and another worth $350,000.
Lopez is also a member of the Trump Doral golf club, where the annual fee is $50,000, the Miami Herald reported recently.
According to his statement, Lopez claimed the OFAC designation is politically motivated.
"The listing provides no factual evidence or legal justification as to why Samark Lopez should be placed on the list, other than that Samark Lopez and Tareck El Aissami are personal acquaintances," the statement said.
"Samark Lopez has tried to further the growth and development of Venezuela and is caught up in the political issues related to Venezuela."