US, Turkey say plan reached to resolve rift over Syria town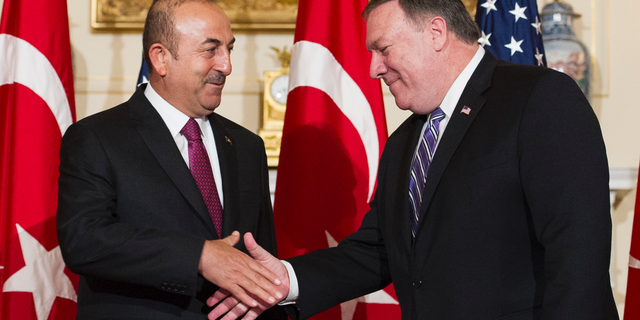 NEWYou can now listen to Fox News articles!
WASHINGTON – U.S.-backed Kurdish fighters will withdraw from the key Syrian town of Manbij under a deal reached with the Trump administration, Turkish officials said Monday, potentially easing a serious rift between the U.S. and Turkey.
If successful, a deal to resolve the future of Manbij, a strategic town in north Syria, could avert a tense standoff in northern Syria between Kurdish-led militias and Turkish-backed Syrian fighters. The spat with Turkey, which considers the Kurdish fighters to be terrorists who threaten Turkish sovereignty, has become a major sore point between NATO allies and a distraction for the U.S.-led coalition seeking to defeat the Islamic State group in Syria.
The agreement to resolve the future of Manbij came in a meeting in Washington between Secretary of State Mike Pompeo and visiting Turkish Foreign Minister Mevlut Cavusoglu. In a joint statement after the meeting, the U.S. and Turkey said the diplomats had "endorsed a roadmap" that aims to "ensure the security and stability in Manbij," but offered no details.
The State Department did not immediately provide any details about what the roadmap entailed. But Cavusoglu, speaking to Turkish journalists, said the Syrian Kurdish militia groups would withdraw under a plan that could be implemented within six months. He said U.S. and Turkish officials would temporarily ensure security in Manbij.
Kurdish-led forces captured Manbij, near the Syria-Turkey border, from the Islamic State group in 2016 following months of fierce battle. Turkey has been pushing for them to withdraw and has vowed to retake the town and other Kurdish-held territory along the border, but U.S. troops stationed in Manbij have served as a deterrent.
Cavusoglu said under the deal, Turkey and the United would ensure the return of local inhabitants who were forced to leave Manbij and establish a local government that would administer the town. He said the whole plan could be implemented within six months.
"The main element of the roadmap is for the terrorist entity to be cleared (from Manbij) and for security and stability to ensured permanently," Cavusoglu said in comments in Turkish that were broadcast live on Turkish television.
He said that the U.S.-backed Kurdish militia, known as the the Peoples' Protection Units or YPG, "will be ousted from the local administration."
In Ankara, Deputy Prime Minister Bekir Bozdag said Turkey and the United States had decided on both a timetable for the withdrawal as well as a "method" for the Kurdish forces' removal. He did not provide details.
"A method, a roadmap and a timetable for its implementation were put forth," Bozdag told reporters. "We hope that our ally, the United States, will carry out the obligations of the agreement."
___
Fraser reported from Ankara, Turkey.