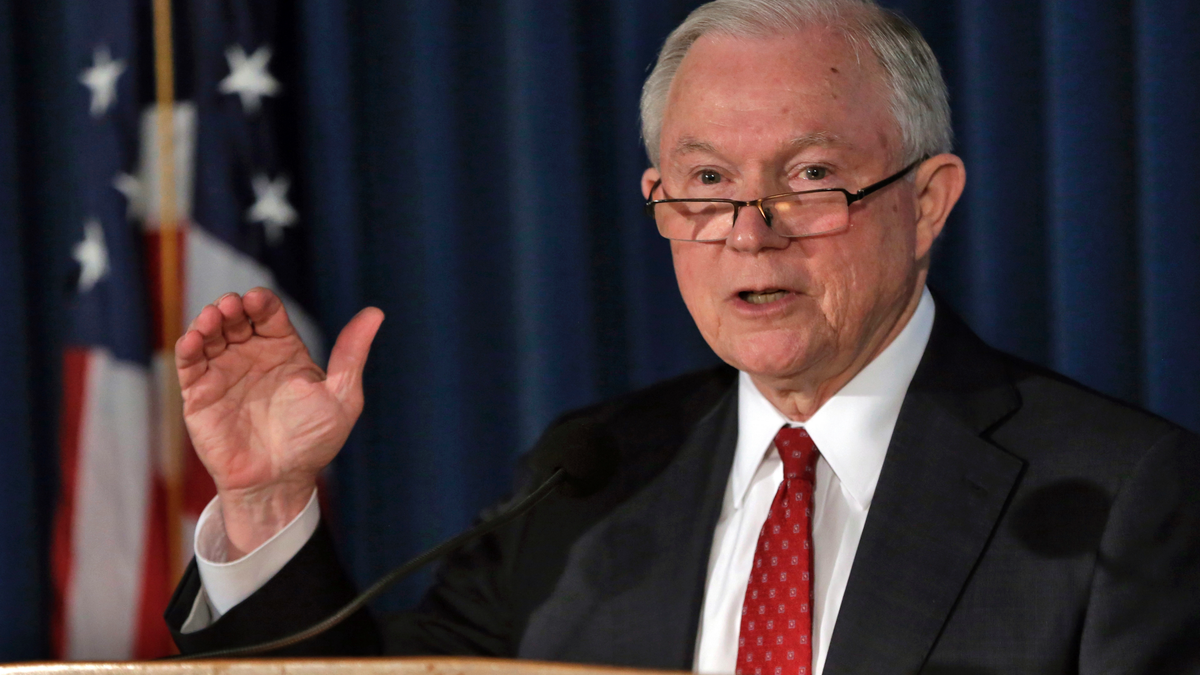 NEW YORK – Attorney General Jeff Sessions expressed confidence on Thursday that the U.S. justice system can handle terror suspects like the man charged in the deadly truck attack in lower Manhattan.
Speaking to members of law enforcement a few blocks from the scene of attack, Sessions also said Guantanamo Bay would remain in the anti-terror mix.
"Terrorists should know: This administration will use all lawful tools at our disposal. ... If anyone has any doubt about that, they can ask the more than 500 criminals whom the Department of Justice has convicted of terrorism-related offenses since 9/11," he said. "And they can ask the dozens of enemy combatants in Guantanamo Bay."
The attorney general's visit to New York City was scheduled before a man used a rental truck on Tuesday to kill eight people on a bike path. The suspect, Uzbek immigrant Sayfullo Saipov, was shot by a police officer and captured. Prosecutors brought federal terrorism charges against Saipov a day later, saying he had planned it for weeks.
"This week's deadly incident — the deadliest attack on New York since 9/11 — is one more reminder of the dangerous threats that we face as a nation," he said.
On Wednesday, President Donald Trump said he'd like to see Saipov sent to Guantanamo Bay. But he appeared to reverse himself Thursday in a tweet reading, "There is something appropriate about keeping him in the home of the horrible crime he committed. Should move fast. DEATH PENALTY!"
Sessions also defended Trump's push for a repeal of an immigration program that allowed Saipov into the country. Trump has sought to blame Sen. Chuck Schumer for the program, prompting Schumer and other Democrats to accuse the Republican president of trying to politicize the tragedy.
"This is not a political or an ideological matter. This is a safety matter, a national security matter," Sessions said. "This is about what a great nation must do to protect itself."
Saipov is charged with two terrorism-related crimes. His attorney has said it's important to let the judicial process play out.
___
This story has been corrected to show that the attack occurred on Tuesday, not Monday.