Unmarked infant graves in Georgia spark community effort to install proper headstones
DALTON, Ga. – Take a walk through the West Hill Cemetery in northwest Georgia and you'll find towering monuments and carefully etched granite, dating back to the Civil War. The cemetery sexton calls it a historical gem. But those elaborate stones fall short in one corner of the 75-acre graveyard – the corner holding its youngest burials.
The children's paupers' section at West Hill Cemetery is for families who can't afford a burial. It holds the bodies of 160 infants laid to rest on Dalton County's dime.
Half of those graves are without headstones.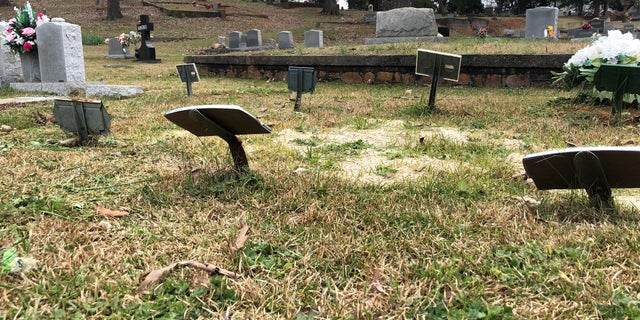 "If it wasn't for records, we wouldn't know whom was where on some of these," said Terrell Stallings, West Hill Cemetery sexton.
The county does not cover the cost of tombstones, so the small paper or metal markers – which wash away or become faded after several months – from the funeral home are all that stand at many of the children's graves.
Now, there is a local effort to replace the slapdash markers memorializing the children with sturdier, permanent graves.
Stallings said with the current markers, after six months there is nothing but patches of dirt marking the burials.
"It just doesn't seem permanent enough because the memories of them are permanent but their grave markers weren't," Amanda Jones said.
A college student, Amanda Jones, said she came up with the idea to replace the headstones after walking through the cemetery last year to pick up trash, a longtime tradition for her and her grandmother.
She suddenly was struck by the unimpressive graves of the children and wondered if she could do something more.
"It's something that should've been done a long time ago."
"I just looked at it and I said: 'These babies deserve better than this,'" Jones told Fox News.
A quick letter from Jones to the local paper launched a fundraising campaign to replace the quickly fading signs with long-lasting stones.
Her newspaper blurb transformed into fast-growing community effort.
Now at $7,600 dollars in donations, the county has more than enough to cover the stones, which cost $65 a pop.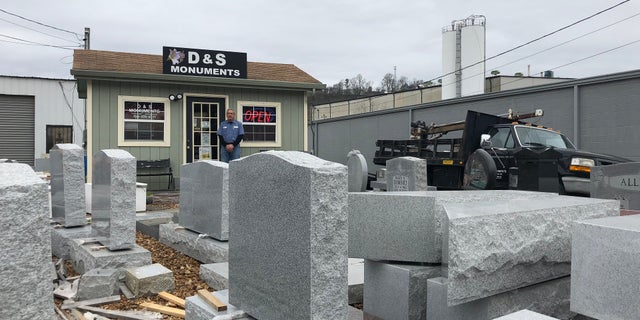 "I think it touched the hearts of a lot of folks," said Benny Dunn, director of the Department of Public Works. "The community stepped up really well."
A local monument-making company was the next to step up, taking care of the stones' design, etching, and implementation – for free.
Co-owner of D&S Monuments, Mark Howard, said each stone requires about one-and-a-half hours of work, so 80 stones means 120 hours of volunteered labor on his company's behalf.
Typically, D&S Monuments charges $75 for the labor on each stone, which means Howard is turning away $6,000 in payment.
"The family has suffered enough loss with losing a child, and some multiple children," Howard told Fox News. "It just makes your heart feel right, and it just makes it right to put a permanent marker there that will be there from now on."
Howard started installing the new headstones earlier this month and expects to get through all 80 by the end of April.
David Satterwhite, president of the Georgia Municipal Cemetery Association, called this a one-of-a-kind initiative, adding he is not aware of another headstone fundraiser in Georgia's history. Although, he pointed out that there are numerous non-profits across the state with goals of improving and preserving cemeteries.
He said state law requires every county to be responsible for indigents, but contributions to funeral homes may vary, depending on the area.
In Dalton County, the contribution is $450 per funeral, which now includes an engraved headstone.
"These are people too and they need the recognition that everybody else gets," Stallings said. "It's something that should've been done a long time ago."