United Dreamliner flight diverted for mechanical issue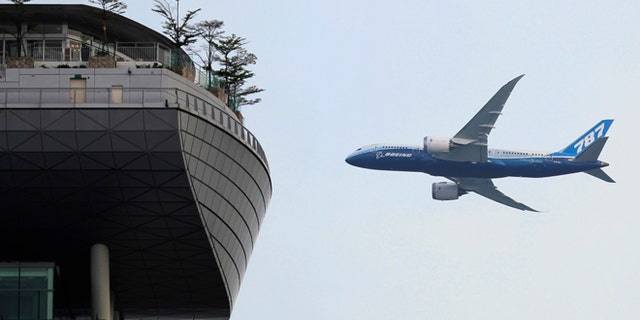 NEWYou can now listen to Fox News articles!
A United Continental Holdings Inc. flight from Houston made an emergency landing in New Orleans on Tuesday because of a mechanical issue on a 13-day-old Boeing Co. 787 Dreamliner plane.
The flight, which was bound for Newark, N.J., with 174 passengers and 10 crew members on board, landed safely without incident, United said. The passengers continued on to their destination on a different aircraft, the carrier said.
The cause of the mechanical issue wasn't immediately clear. United said it would work with Boeing to investigate.
"As you can imagine, we're going to let the technical teams do their jobs and not speculate. We're not providing details about the event at this point in time as the teams are still working to understand it," a Boeing spokeswoman said in an e-mail.
The Dreamliner, Boeing's newest aircraft model and the first jetliner made mostly from carbon-fiber composite material, has received significant scrutiny during its development and early service with airlines, and the company has struggled to increase deliveries to airline customers.
Separately, the Federal Aviation Administration is mandating checks to the 787's fuel lines after the discovery of improper connectors—and in some cases incorrect or extra parts—installed in the factory. The company said Tuesday that half the world-wide fleet of nearly 40 jets has been inspected.
Boeing has encountered teething problems with the new jet, including a failure of a General Electric GEnx engine during a ground test at its Charleston, S.C., factory this summer. That failure prompted the Federal Aviation Administration to mandate immediate and regular inspections of those engines.
The company has been constantly monitoring the fleet of 787s during its introduction to service, including live tracking of the aircraft through its health monitoring system.
Boeing delivered the 787 involved in Tuesday's incident to United on Nov. 21.
The crew on Tuesday's flight indicated the problem's possible location, radioing the tower while on approach to New Orleans airport to request that first responders check for discoloration or dripping plastic in an area behind the wing known as the aft electrical equipment bay, where many of the aircraft's electrical power systems are located.
United said there was no indication of fire on the aircraft. United officials were focusing their investigation on a generator on the plane, according to a person familiar with the situation.
Eric Erickson, a finance consultant from Houston, said that just over an hour into the flight, the lights flickered and his seatback television froze and had to be rebooted. "I then noticed we were making a long right-hand turn" to New Orleans, he said.