Unilever drops Dove 'Armpit of America' billboard in New Jersey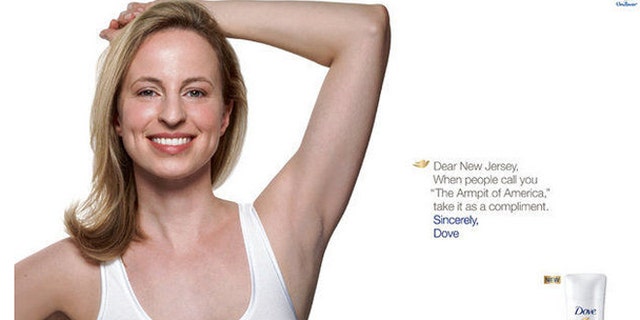 Some residents in New Jersey think a planned billboard for Dove deodorant stinks.
Unilever announced that it will not go forward with a billboard that was scheduled to go up in July that has an image of a young woman with her arm raised with the message: "Dear New Jersey, when people call you 'The Armpit of America,' take it as a compliment. Sincerely, Dove.'"
The New Jersey Journal reported that dozens of people took to Facebook to criticize the message.
"Thanks for insulting New Jersey," one person wrote. "I will be sure not to buy any of your products again."
[pullquote]
The ad was supposed to promote a new line of deodorant, The New York Times reported.
Matthew McCarthy, the senior marketing director of deodorants at the company, told The Times that the message was to show that armpits are not a 'bad thing.'
Jen Drexler, a vice president at Insight Strategy Group, which did not work on the campaign, told The Times that Dove appears to be drawing attention to the part of a woman's body that women don't usually consider.
"This is just giving women something else to be anxious about," Drexler said. "Women do not think about how beautiful their underarms look and they couldn't pick their underarms out of a lineup, so Dove is saying, 'We've invented the problem, and now we're solving it for you,' which is a classic approach for beauty brands."