U of California students take harassment concerns to agency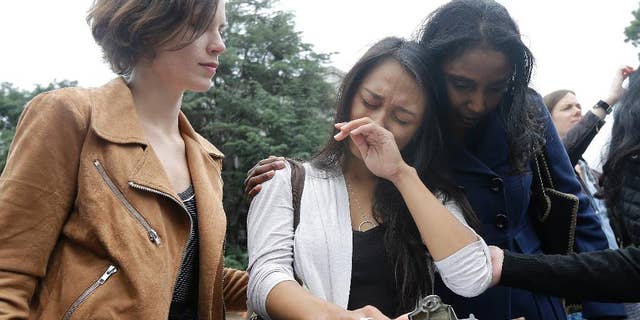 BERKELEY, Calif. – Two graduate students at the University of California, Berkeley took their allegations that a professor sexually harassed them to the state agency that investigates discrimination claims on Monday, saying they were frustrated by the campus administration's failure to discipline the faculty member.
The doctoral students, Kathleen Gutierrez and Erin Bennett, filed complaints on Monday with the California Department of Fair Employment and Housing saying that South and Southeast Asian Studies Assistant Professor Blake Wentworth repeatedly touched them and made inappropriate sexual comments.
Accompanied by a lawyer, the women went public with their claims on the UC Berkeley campus as several student groups prepared to hold a rally to protest a series of sexual harassment cases that since the fall have embarrassed the prestigious school and led to the resignations of a prominent astronomer, a law school dean and an assistant basketball coach.
Gutierrez, 28, said she has been kept in the dark for months about what UC Berkeley plans to do about her allegations, which were substantiated by campus investigators in October. Bennett, 25, said the stress of her interactions with Wentworth and fear of running into him on campus caused her to take medical leave and suspend the second year of her graduate studies.
"It's been debilitating," she said. "It's already derailed my future career, my education."
Campus spokesman Dan Mogulof said the school plans to comment later Monday. Wentworth did not immediately reply to an email seeking comment.
Both women reported their concerns a year ago to the office at UC Berkeley that investigates sexual misconduct cases. An investigator concluded in October that Wentworth had violated university sexual harassment policy with his behavior toward Gutierrez, but not during his dealings with Bennett, according to redacted records obtained by The Associated Press through a public records request.
The records show that the findings were forwarded at that time to the campus vice provost for faculty. Disciplinary proceedings involving faculty members usually are conducted to an Academic Senate committee, and ones involving Wentworth still were pending as of last week, the records state.
In her complaint to the state, Bennett said Wentworth, who was teaching her to read and speak one of the world's oldest languages, told her during their first private meeting that learning Tamil was "better than sex" and talked about his failing marriage. She said he touched her hand and shoulders during subsequent lessons.
Gutierrez did not take any classes from Wentworth, but she said he often stopped by to socialize at the office used by graduate teaching assistants. She said that in February 2015 he asked her to take a walk with him, grabbed her hand and confessed being sexually attracted to her even though he knew "I could lose my job over this."
Gutierrez also alleged that she tried to tell Wentworth his actions made her uncomfortable but that he kept turning the conversation back to personal and sexual topics. After her complaint was upheld by campus investigators, the professor continued coming by the graduate student office and Gutierrez said she had to obtain an administrative directive ordering him to stay away from her.
"I want that time back," Gutierrez said. "I want all that endurance, energy and labor that has gone into this back."
The women's lawyer, Arabelle Malinis, said at least five other students have complained about Wentworth, who joined the faculty at Berkeley in 2012 and previously worked as a lecturer at five other universities, including Yale and Cornell.
In recent weeks, UC Berkeley Chancellor Nicholas Dirks has appointed a committee to make recommendations for overhauling the campus' sexual harassment investigation and discipline policies.