Trump is last hope for dozens of Cuban migrants stranded at US border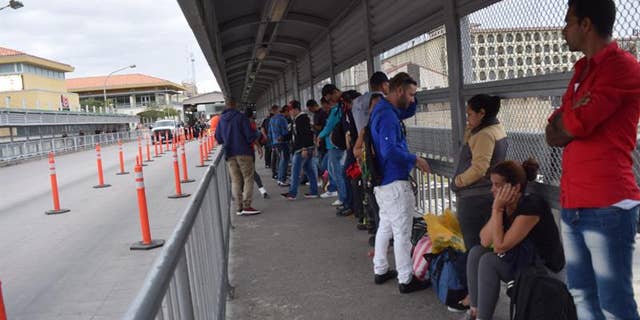 NEWYou can now listen to Fox News articles!
NUEVO LAREDO, Mexico – More than 50 Cuban migrants stranded in Nuevo Laredo, on the US-Mexico border, hope that President-elect Donald Trump will resolve the conflict sparked by the cancellation late last week of the so-called "wet foot, dry foot" policy.
Last week President Barack Obama put an end to the policy, which allowed undocumented Cuban migrants who managed to make it to US territory to remain in the United States.
The move is one more step in the normalization process with Havana begun in late 2014.
One of those affected by the unexpected decision by outgoing President Obama is Roimer Delgado, 47, who says that he and his fellow migrants are hoping for a solution.
"We're waiting to see what Trump decides to do with us. The only thing we want is for him to let us enter and build a new life, on the basis of effort and work, far from the Castro regime," Delgado told EFE, just yards from US soil, at the bridge linking Nuevo Laredo, Mexico, with Laredo, Texas.
On the day Fidel Castro died in late November, Trump promised that his new administration would do everything possible so that the Cuban people could start on the road toward "prosperity and freedom."
Also, along the campaign he promised to take a hard line with the Castro regime, an announcement that secured him the votes of many Cuban-Americans in Florida, a crucial state in his Nov. 8 presidential election win.
"We hope that the new government reflects a little and lets us in, whether it be through political asylum or by reintroducing the 'wet foot, dry foot' rule. I'm happy with whatever they give me," said Irina Vicardo, who arrived at the US border with her 1- and 8-year-old children after traveling through Ecuador, Colombia, Panama, Costa Rica, Nicaragua, Honduras, Guatemala and Mexico, one of the regular routes for Cuban migrants making their way to the United States.
Many Cubans travel as "tourists" to Ecuador by plane and from there continue their journey by various means to the southern US border.
About 30 of the stranded Cubans, including several mothers with small children, decided to protest peacefully at the bridge by forming a silent line at the entry point to the United States.
Those participating in the protest, who came to the border between Thursday and Saturday, are asking the incoming Trump administration to let them enter the US because Obama's decision was "immediate and unexpected."