Train derails after hitting floodwaters on tracks in Arizona
A freight train derailed and spilled debris all along the side of an Arizona interstate on Tuesday after striking water on flooded tracks in a stunning moment captured on video.
The Union Pacific freight train derailed before 3:30 p.m. in Marana, located just outside of Tucson during a heavy thunderstorm, Tucson News Now reported.
Video from the television station caught the moment the engine hits the floodwaters, causing water to shoot into the air and one of the cars go off the tracks. The train cars ended up on the frontage road of Interstate 10, littering the area with debris.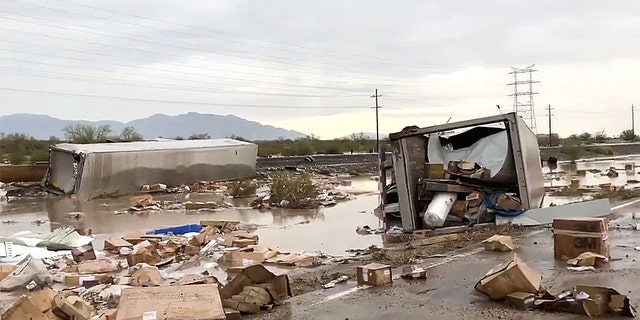 "There was an awful lot of rain, as anybody on the northwest side knows today," Northwest Fire District Captain Brian Keeley told Tucson News Now. "I will tell you we had running water on both sides, as well as even I was able to verify we had water running water over the tracks. That could have been a contributing factor, but I'm going to let Union Pacific take their investigation and ultimately they will be able to determine."
FLORIDA: EXCESSIVE SPEED CAUSED ROLLER COASTER DERAILMENT
Union Pacific told the news outlet that 27 cars, some carrying double containers, derailed in the middle of the train.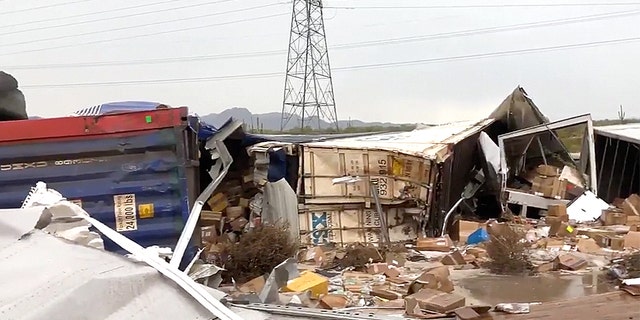 The railroad began returning the derailed cars to an upright position on the tracks on Wednesday to get rail traffic moving through the area.
While there was a lot of water on the tracks at the time, investigators have not yet determined a cause for the derailment and said it remains under investigation.