Total Containment Vessel common in New York City during suspicious package scare
After officials discovered what "appeared to be a live explosive device" at the Time Warner Center — CNN's headquarters — authorities needed to remove the device out of busy Manhattan safely. And that's where the New York Police Department's Total Containment Vessel came in.
The package was placed inside a large white sphere attached to an NYPD truck to be safely transported out of Manhattan on Wednesday, the New York Post reported.
"If a bomb were to explode inside there, the pressure will bleed off through a series of small vents, but all the fragmentation that would be associated with it — and of course the blast pressure shockwave — it's contained," Lt. Mark Torre, commanding officer of the NYPD bomb squad explained in a video.
SUSPICIOUS PACKAGES ADDRESSED TO OBAMA, CLINTON, OTHERS: A FULL LIST OF RECIPIENTS
"Of everything we use, this really promotes safety for the public because once something is in here and locked down, we can move it safely through public streets without evacuations, without shutting anything down and most importantly, without fear," Torre said. "Nobody is going to get hurt and no property is going to be damaged so it's money well invested."
A rash of suspicious packages sent to prominent political figures and news outlets were found this week in several places, including New York City. As of Friday, devices had been sent to liberal billionaire George Soros, former President Barack Obama, former Vice President Joe Biden, former Secretary of State Hillary Clinton, California Rep. Maxine Waters, former Attorney General Eric Holder, New Jersey Sen. Cory Booker, actor Robert De Niro, former intel chief James Clapper and former CIA Director John Brennan.
FLORIDA SEEN AS 'REGION OF INTEREST' IN PACKAGE BOMB PROBE, SOURCES SAY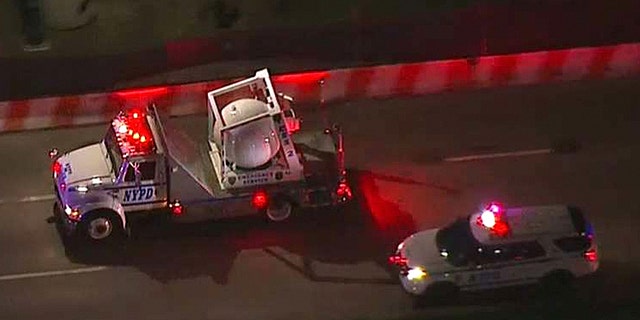 On Friday, a pair of suspicious packages addressed to Booker and Clapper were discovered — bringing the total number of parcels sent to 12.
The package addressed to Brennan was sent to CNN although he is an MSNBC analyst. Accompanied by emergency vehicles, it was taken to a police facility in the Bronx, where authorities were investigating it further. Another package, addressed to De Niro in Tribeca, was also transported by a TCV out of the city.
Generally, TCVs can contain 25 pounds of TNT or more during a blast, The New York Times reported. The vehicles are also becoming increasingly common among police forces, according to the newspaper.
The Associated Press contributed to this report.