CNN offices in New York City evacuated over suspicious package that appeared to be 'live explosive device'
CNN's New York City bureau was among the businesses evacuated Wednesday morning when a suspicious device that appeared to contain "a live explosive device" was found in the Time Warner Center's mailroom -- that discovery coming amid the intercept of similar devices earlier in the day intended for former President Barack Obama and former Secretary of State Hillary Clinton.
NYPD Police Commissioner James O'Neill said in a news conference an envelope with white powder was also discovered along with the pipe bomb at the Time Warner Center. The rash of suspicious packages comes two days after liberal billionaire George Soros received an explosive device at his home.
The Time Warner Center building, located at 10 Columbus Circle, was evacuated just after 10 a.m. Wednesday, the NYPD said, and at 12:12 p.m., an emergency alert system message was sent out to people in the area saying the suspicious device on West 58th Street between Columbus Circle and Eighth Avenue "was safely removed by NYPD bomb squad." John Miller, the deputy commissioner of NYPD Intelligence and Counterterrorism, said a bomb truck removed the device from the building.
The white powder was tested at the scene.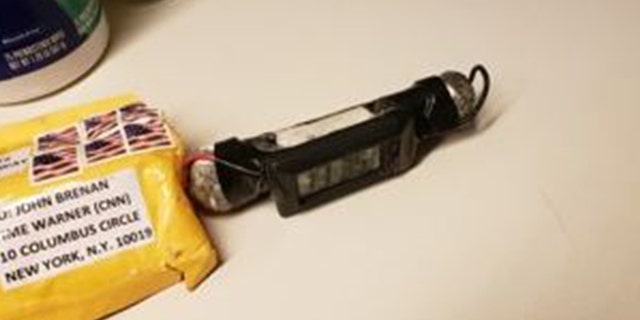 The package at the Time Warner Center was addressed to MSNBC analyst and former CIA Director John Brennan, according to CNN, citing three internal sources.
At the time of the evacuation in New York City, CNN anchors Poppy Harlow and Jim Sciutto were reporting on air when the fire alarm went off. They continued the broadcast from outside the building, showing crowds of people standing on the street as NYPD officers and the bomb squad arrived at the scene.
WATCH: CNN ANCHORS REACT ON AIR AS SUSPICIOUS PACKAGE TRIGGERS ALARM, EVACUATION OF STUDIO
CNN president Jeff Zucker sent a note to employees earlier saying the evacuation was ordered "out of an abundance of caution."
"We are working with authorities to determine the severity of the situation. The NYPD is on scene, and we we [sic] working closely with them to take every precaution," Zucker said in the statement, adding that the company checked other bureaus as a precaution. Zucker later wrote again to tell employees another sweep of the building was being conducted before allowing people to re-enter.
New York City Mayor Bill de Blasio said during the Wednesday news conference, "We at this time do not have other credible and specific threats against other locations in New York City."
The series of reports of "potential explosive devices" appeared to have begun Monday when Soros, 88, received a piece of mail containing the crude pipe bomb sent to his home. An employee who works at the residence in Westchester County found the package and opened it. Federal agents later safely detonated the device.
Soros was not home at the time of the incident.
SECRET SERVICE INTERCEPTS SUSPICIOUS PACKAGES SENT TO OBAMA, HILLARY CLINTON
By early Wednesday morning, the FBI said it was investigating a suspicious package addressed to the home of Bill and Hillary Clinton in Chappaqua, New York. In a statement, the Secret Service said after that package was caught by officials late Tuesday before arriving at the New York home, a second package addressed to Obama "was intercepted by Secret Service personnel in Washington, DC" on Wednesday morning. New York City officials said the Secret Service noted the package was "nearly identical" to the one that arrived at Soros' home.
"The packages were immediately identified during routine mail screening procedures as potential explosive devices and were appropriately handled as such. Both packages were intercepted prior to being delivered to their intended location. The protectees did not receive the packages nor were they at risk of receiving them," Secret Service said in a statement.
The packages sent to Brennan, Obama, Clinton, Soros and others appeared to be linked and sent by the "same individual or individuals" to the prominent figures and news station, Miller said, adding that the investigation is in its early stages. No one was injured by any of the devices and no arrests have been made.
"Suffice it to say it appears that an individual or individual sent out multiple similar packages. We have been working with corporate partners and the private sector," Miller said.
"There is a number of devices and there's a pattern apparently to the number of devices. We wouldn't be surprised if more devices show up…a device was sent to my office in Manhattan and is being handled," Gov. Andrew Cuomo said during the Wednesday news conference. "This is a political year. A political season and that's obviously in the air. But we've been through many political seasons, and we have political differences. That is good for democracy. What is not good is extremism that pushes people to violence."
The NYPD later cleared the device sent to Cuomo's office, saying it was "unrelated" to the other parcels and there was no device.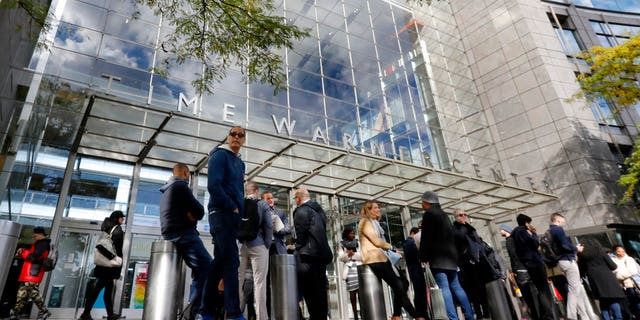 Reports emerged a similar suspicious parcel found in mail heading to the White House on Wednesday, but the Secret Service later told Fox News the reports were not true. Other packages were rumored to have been found at a handful of other Democratic leaders' offices, but those reports were either unconfirmed or denied by a spokesperson.
White House Press Secretary Sarah Sanders, along with Vice President Mike Pence, President Trump's children Ivanka and Donald Trump Jr. and former first daughter Chelsea Clinton condemned the suspicious packages uncovered this week.
Trump said late Wednesday afternoon that the "safety of the American people is [his] highest and absolute priority" and that a major investigation is being conducted into the "despicable acts."
"We will spare no resources or expense in this effort and I want to tell you in these times, we have to unify, we have to come together, and send one clear strong message that acts or threats of political violence has no place in the United States of America," the president added.
Sanders, in an earlier written statement, described the incidents as "attempted violent attacks."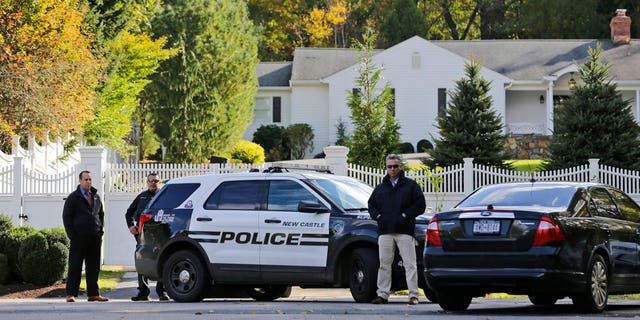 "We condemn the attempted violent attacks recently made against President Obama, President Clinton, Secretary Clinton, and other public figures. These terrorizing acts are despicable, and anyone responsible will be held accountable to the fullest extent of the law. The United States Secret Service and other law enforcement agencies are investigating and will take all appropriate actions to protect anyone threatened by these cowards," Sanders said.
"We condemn the attempted attacks against fmr Pres Obama, the Clintons, @CNN & others. These cowardly actions are despicable & have no place in this Country. Grateful for swift response of @SecretService, @FBI & local law enforcement. Those responsible will be brought to justice," Pence said, which Trump retweeted with the caption: "I agree wholeheartedly!"
Ivanka Trump tweeted: "I strongly condemn the attempted acts of violence against President Obama, the Clinton family, @CNN & others. There is no excuse—America is better than this. Gratitude to the @SecretService and law enforcement for all they do to keep this nation safe."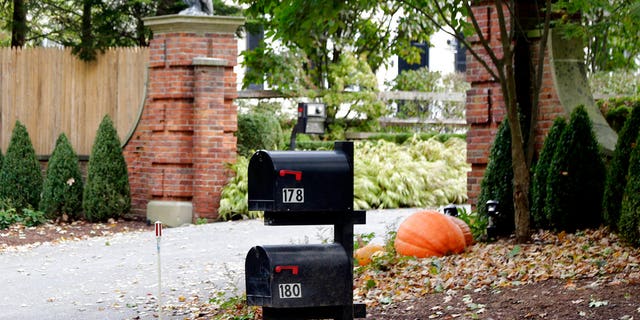 This is the third suspicious package incident of the year. In March, suspicious packages sent to mail processing facilities at the White House, CIA and FBI headquarters were intercepted, and earlier this month, suspected ricin was also sent to Defense Secretary Mattis and Navy's top officer.
The Time Warner Center building attracts 16 million annual visitors, according to its website. Along with the CNN New York bureau, the center also houses a diverse array of shops and restaurants.
Fox News' Brooke Singman, Tamara Gitt, John Roberts and Lucas Tomlinson contributed to this report.