Three Chicago police officers shot during drug investigation, gunman killed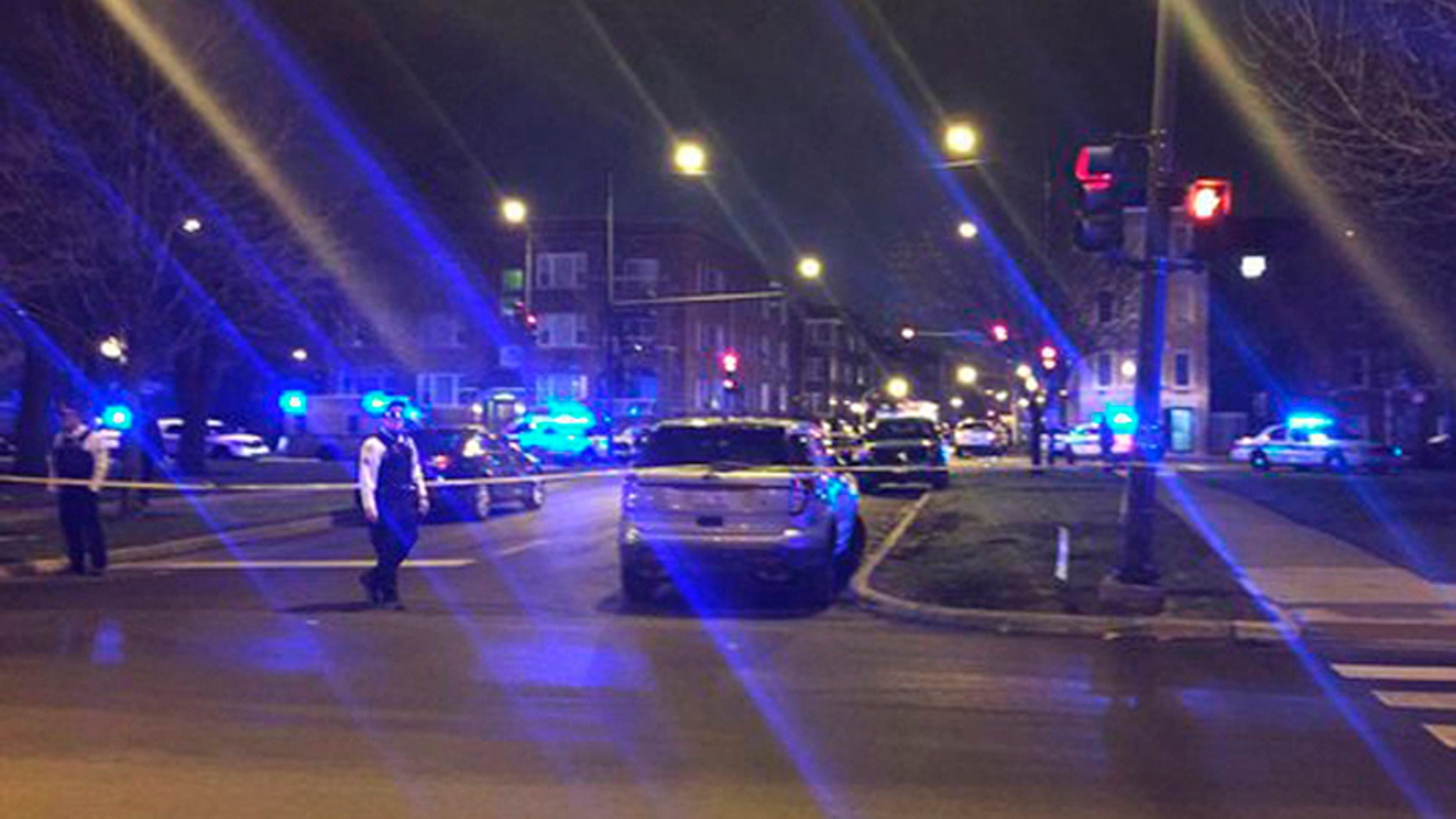 Three Chicago police officers investigating suspected drug dealing on the city's west side were shot and wounded Monday night before their attacker was killed.
Chicago Police spokesman Anthony Guglielmi posted on Twitter that none of the officers' injuries were life-threatening.
The spokesman told the Associated Press that five police officers observed a man and a woman acting suspiciously and decided to investigate further. When they announced their presence, the man ran into a gangway between two buildings and opened fire. Guglielmi said the gunman injured three officers before being fatally injured by an officer's return fire.
The dead suspect's identity was not immediately available. Guglielmi said the woman was arrested after a chase and was being questioned in connection with the shooting.
Fox 32 Chicago reported that one of the injured officers was shot in the foot while a second officer was shot in the back. The Chicago Tribune reported that the third officer was shot in the chest, but may have been wearing a bulletproof vest.
Neither suspect was identified by authorities, who added a gun used by the dead suspect was recovered at the scene.
Chicago Mayor Rahm Emanuel and Interim Police Superintendent John Escalante visited the officers and their families at the hospital.
Emanuel said in a statement the shooting was a reminder "of the dangers that our police face, and the bravery that they routinely display as three of our officers were shot in line of duty. The thoughts and prayers of our entire city are with the officers and their families during this difficult time."
The shooting comes a day after authorities say an undercover narcotics officer in Maryland was mortally wounded by one of his colleagues as he responded to an attack on his police station by a gunman.
A woman who lived on the same block where the shooting occurred told the Chicago Sun-Times that she heard approximately 15 gunshots. She told the paper that she saw three ambulances leaving the scene amid a strong police presence.
"It was a sea of blue lights," she said.
Talking to reporters after visiting the officers, Escalante thanked the Illinois State Police for closing an expressway to allow the wounded officers quick transport to the hospital. Dozens of police officers met the ambulances at the hospital.
"I want to thank Chicago Fire Department paramedics for their quick response in getting our officers here safely," he said. "Again, a thanks to the staff here at county hospital for taking care of our injured officers."
Police said in a statement that the city's Independent Police Review Authorities will investigate. The officers involved will be put on standard administrative duties for 30 days.
The Associated Press contributed to this report.