The Latest: Migrants hit snags with Mexican immigration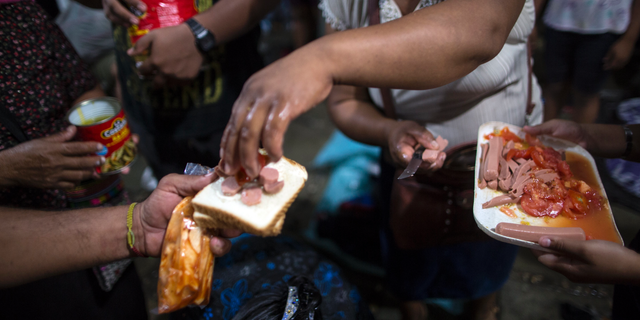 MAPASTEPEC, Mexico – The Latest on the caravan of Central American migrants hoping to travel through Mexico to the U.S. (all times local):
3:00 p.m.
Mexican immigration officials appear to be intervening more aggressively with the movements of Central American migrants trying to make their way through Mexico and to the U.S. via a sprawling caravan.
A taxi driver in the southern Mexico town of Mapastepec recounted Thursday having seen immigration agents force migrant passengers out of cabs at a checkpoint. Later, hundreds of migrants were given free passage at the same checkpoint as Mexican officials watched.
An official from Mexico's Human Rights Commission said migrants can go through if they are in vans or trucks that offered them rides for free. But if they paid fares, they must get out because of insurance regulations. Migrants may also walk through the checkpoint. The human rights official, who was in uniform, said he was not authorized to speak about the matter and did not give his name.
Cesar Antonio Perez Rodriguez, a migrant from El Salvador, said Mexican immigration agents had forced him, his pregnant wife Delmy Roxana Martinez and their 3-year-old son out of a van on Wednesday. They were brought to a room inside an immigration office that eventually filled with more than 30 migrants.
Hours passed with no explanation for the detentions. Several in the group became agitated and pushed their way free through a door, he said. In the commotion Perez said he grabbed his bag but left his wife and child behind. As he ran he looked back to see his wife blocked by agents wielding batons, holding their son and crying.
Perez made his way Thursday to an internet cafe in Mapastepec, where he desperately tried to contact his wife's relatives via Facebook to find out if they had heard from her. He had no money and his wife had their only cell phone, a Mexican number he didn't know.
"I don't want to lose my son," Perez said, choking back tears.
___
7:35 a.m.
The sprawling caravan of migrants hoping to make their way to the United States has set off again, forming a column more than a mile long as the group treks out of the town of Mapastepec in southern Mexico before dawn.
Most had spent the rainy night on the town square where the municipality of some 45,000 people joined churches and volunteers in setting up portable tents offering some medicines and donated baby bottles, clothing and showers.
The caravan swelled dramatically soon after crossing the border on Oct. 19, but little by little, sickness, fear and police harassment are whittling down the numbers. Many of the 4,000 to 5,000 migrants camped overnight under plastic sheeting complained of exhaustion.
Since entering Mexico at its southernmost tip, the group has advanced roughly 95 miles (150 kilometers) as the crow flies — a sliver of the more than 1,000 miles to the U.S. border. The next planned stop is Pijijiapan, about 25 miles (40 kilometers) up the road.