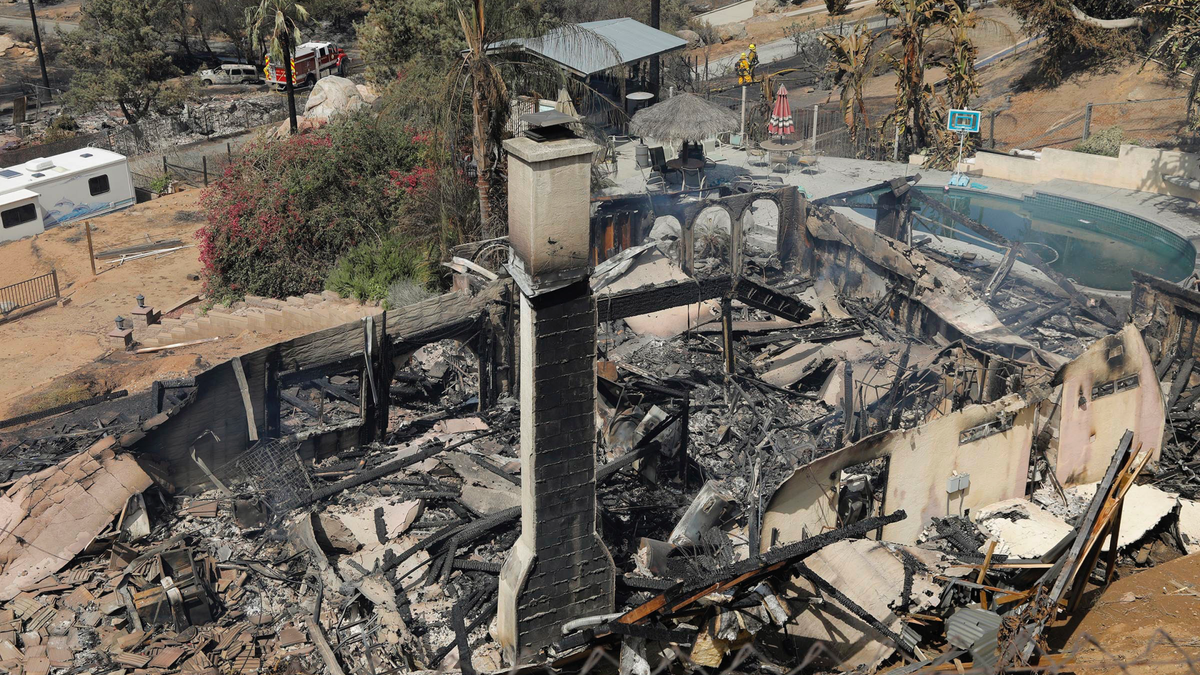 GOLETA, Calif. – The Latest on wildfires burning in the West (all times local):
8:50 p.m.
The largest of the California wildfires is more than half contained.
Officials say the 138-square-mile fire northwest of Sacramento has destroyed 10 structures since it broke out June 30.
Thousands of firefighters are battling the so-called County Fire, which is one of many fires burning around the drought-ridden states in the U.S. West.
A wildfire burning near the Oregon-California state line grew to 34 square miles Saturday. Cal Fire officials say the so-called Klamathon Fire is 20 percent contained. It has destroyed dozens of homes.
___
4:40 p.m.
Southern California authorities are scaling back evacuation orders for neighborhoods around a wildfire that destroyed 20 homes and other buildings in Santa Barbara County.
Officials say the 100-acre (40.5-hectare) fire in Goleta is 80 percent contained Saturday and many of the 2,500 evacuated residents will be able to return by late afternoon.
In Los Angeles County, meanwhile, water-dropping helicopters and ground crews are attacking a small but persistent fire burning on a mountain slope above suburban Burbank.
It's one of many fires burning around the drought-ridden states in the U.S. West.
___
2:55 p.m.
A Colorado-based Boeing 747-400 supertanker has been deployed to California to help fight wildfires that have destroyed dozens of buildings and caused at least one death.
Scott McLean is deputy chief of California's Department of Forestry and Fire Protection. He said Saturday the supertanker is undergoing final checks at McClellan Air Base outside Sacramento. Once cleared by the state and the U.S. Forest Service, the plane can be sent to fires anywhere in California.
Both McLean and the aircraft's owner, Global SuperTanker Services of Colorado Springs, Colorado, say software issues must be resolved before the plane is activated under a call-when-needed contract. The aircraft can carry 19,200 gallons (72,000 liters) of water, retardant or suppressant.
Global SuperTanker CEO Jim Wheeler said in a statement that the company also has been negotiating with Colorado, which like many Western states is battling several large wildfires.
The plane first flew missions last year in California.
___
11:15 a.m.
Authorities are allowing some Utah residents forced to flee because of a wind-fueled wildfire to return home.
Officials on Saturday opened up the burned out area near a popular fishing lake 80 miles (130 kilometers) southeast of Salt Lake City, as well as a stretch of highway.
The blaze has burned about 75 square miles (193 square kilometers) and destroyed 90 structures, including homes, cabins, sheds and garages, since starting Sunday in the mountains.
A 35-mile (56-kilometer) stretch of U.S. Highway 40 reopened late Friday after being shut down two days earlier.
According to the Duchesne (doo-SHAYNE') County Sheriff's Office, officials said residents allowed to return Saturday should remain on alert and prepared to evacuate if necessary.
Officials believe human activity sparked the blaze, but an exact cause hasn't been determined.
___
8:55 a.m.
Southern California firefighters are taking advantage of calm conditions to attack a small but destructive wildfire in the Santa Barbara County community of Goleta, one of many conflagrations burning in the hot and dry West.
Fire Capt. Dave Zaniboni says there's no wind at all Saturday morning — a far different situation than Friday night when the fire erupted and was spread wildly by 50 mph (80 kph) gusts.
The blaze consumed an estimated 20 structures, including homes and other types of buildings.
Many of the structures continue to burn but Zaniboni says the forward spread of the fire has been stopped. It's estimated at 100 acres (40.5 hectares) or less.
The cause of the fire remains unknown. It erupted in the midst of a triple-digit heat wave that has sent humidity levels plunging, making conditions ripe for fires.
___
11:56 p.m.
Wildfires that have destroyed dozens of buildings and caused at least one death continue to ravage California as a heat wave sweeps the southern part of the state.
Authorities say a new wind-driven fire erupted Friday night in the hills above Goleta in Santa Barbara County, burning 20 homes and threatening hundreds more.
Farther south, a fire in the San Bernardino National Forest grew to 1,000 acres and prompted the evacuation of Forest Falls, a town of about 700 homes.
In San Diego County, a handful of fires prompted evacuation orders for more than 1,000 homes. One blaze reportedly burned at least five homes in Alpine.
The area was hit by gusty winds that tossed embers and much of Southern California sweltered as temperatures topped 100 degrees in many areas. The heat wave is expected to continue Saturday.
Meanwhile, a wildfire on the California-Oregon border has destroyed 40 buildings in Hornbrook and claimed at least one life.