Texas sheriff's deputies escort teen to graduation in place of fallen father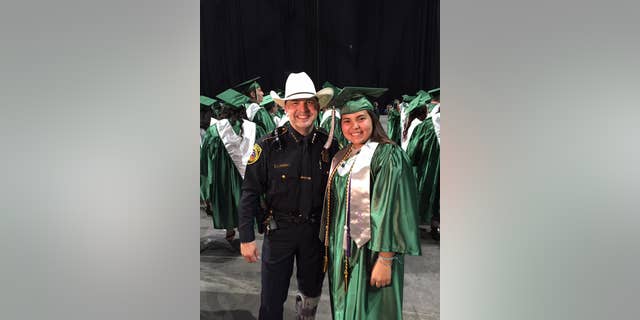 Gloria Garza celebrated one of the biggest moments of her young life on Friday when she graduated from Southwest High School in San Antonio, Texas. Despite the excitement, however, there was one important person missing from the 18-year-old's big day: her father and former deputy with the Bexar County Sheriff's Office, Jesus "Jesse" Garza, who died in the line of duty nearly 15 years ago.
It was for that reason that deputies with the Bexar County Sheriff's Office decided to escort Garza to her graduation.
A patrol unit escorted the teen to the event, where, upon arriving, she walked arm-in-arm with Sheriff Javier Salazar, according to KSAT.
"It's a member of the family whether we knew him or not. We all wear the same uniform. We all wear the same badge. We're going to step and do what we need to do for each other," Salazar told the news station.
"I know Jesse would be doing this himself absolutely if he could right now. Being that he can't be with us, he's got 1,500 brothers and sisters that are willing to do it for him," he added.
In December 2003, Jesus Garza was killed in a car crash while responding to an emergency call, according to the sheriff's office. Garza was just 3 years old at the time.
Members of the San Antonio Police Department and the Bexar County District 7 Fire Rescue and the Bexar-Bulverde Volunteer Fire Department also helped to escort the teen to her graduation.
Garza also met Jesse, a horse named after her father that's part of the sheriff's office's mounted division.
"I didn't expect any of this. It's just amazing," Garza told KSAT.
While Garza didn't have the chance to get to know her father well, the teen says she's often reminded of their striking resemblance.
"My family tells me I'm just like him — the way I walk and talk. I know that he'd be proud of me for who I am," Garza said.
Garza, who was also presented with a badge engraved with her father's number to wear around her neck, is slated to study biology at Stephen F. Austin University. She hopes to one day become a neonatal doctor.