Texas kidnapping victim shot dead in FBI 'operation'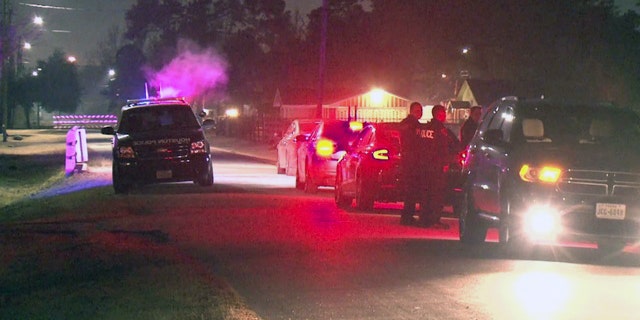 NEWYou can now listen to Fox News articles!
A Texas man who police say was kidnapped in a home invasion was shot and killed early Thursday as FBI agents raided the home where he was being held, according to multiple reports.
FBI spokeswoman Christina Garza told KPRC that multiple people, including two children, were inside the home in northeast Houston at the time the shots were fired. She declined to provide details of the shooting, citing an ongoing investigation.
An FBI agent involved in the shooting was placed on leave pending an internal investigation.
The Houston Chronicle reported that the unidentified victim was kidnapped from a home in Conroe Wednesday by two men with guns who forced their way inside. According to the paper, the victim's brother and 12-year-old son were bound with duct tape.
"[The kidnappers] were demanding money they were owed that nobody knew anything about," Conroe Police Sgt. Jeff Smith told the paper.
Smith added that the kidnappers claimed to have connections with a Mexican drug cartel, but noted there was no evidence that was the case.
"There are oftentimes claims of a cartel connection just to place a fear factor," Smith told the Chronicle.
After the victim's brother received a phone call demanding a ransom, police and the FBI were able to track the suspects to a Clear Lake hotel. Three people were detained and questioned, enabling police to locate the victim in the home.
Police told the Chronicle that a woman in the home was arrested and charged with aggravated kidnapping. Two men detained at the hotel were charged with aggravated kidnapping and aggravated robbery. It was not immediately clear if more charges would be filed.
"This was not a random cartel thing," Smith said. "It appears somebody connected to the family was involved."