Texas house explosion, fireball captured on dashcam video
Video from a police dashcam released Wednesday shows the moment officers arrived at a home in Texas just as it exploded into a large fireball.
The video released by the Hurst Police Department shows several officers pulling up to the house on April 7 after it was hit by an SUV, which severed a gas line.
As an officer starts to approach the structure, the home bursts into flames, sending debris throughout the neighborhood, located about 12 miles outside of Fort Worth.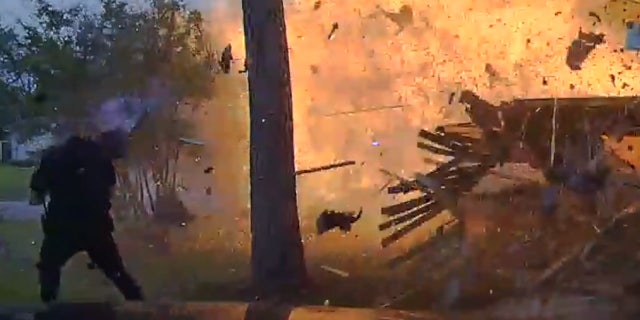 "I just remember a big heat wave and something kind of pushing me from the side," Officer Travis Hiser told FOX4. "There was shrapnel coming out of the house. The roof explodes, insulation was coming out. Things were coming out on fire."
CAR SLAMS INTO TEXAS HOME, TRIGGERING GAS EXPLOSION AND INJURING 5 PEOPLE
Three members of the family who were inside the home at the time were hurt, and an officer who helped rescue them was treated for minor injuries.
"Great work by Officer Hiser, Corporal Tooker and the rest of the team who assisted at this incident," police said in a Facebook post. "We are incredibly thankful that the victims are stable and expected to recover."
The driver of the SUV that hit the home, Arnulfo Castro, claimed his brakes went out and he lost control of the vehicle. The 40-year-old was later arrested and charged driving without a license.