States of emergency declared as East Coast braces for winter storm
Virginia, Pennsylvania, Maryland and Washington, D.C. declared states of emergency Thursday ahead of the winter storm set to dump up to 2 feet of snow on the nation's capital and affecting states from the mid-Atlantic to New England.
D.C. mayor Muriel Bowser also apologized on behalf of the district for what she described as a weak response to car crashes and gridlock after less than an inch of snow fell Wednesday. "We should have been out earlier with more resources," she added.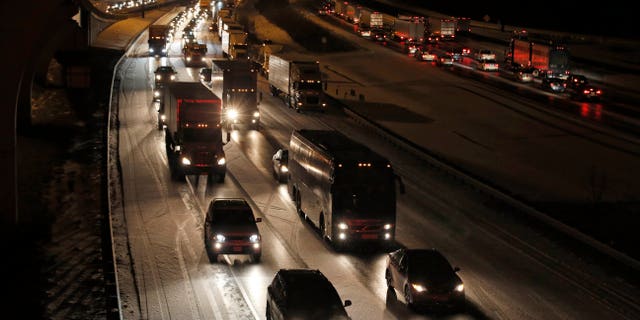 The strongest winds and potentially life-threatening conditions are expected Friday night through Saturday night.
The state of emergency frees up access to federal aid if needed. The mayor also declared a snow emergency set to take effect after Friday's morning rush hour. Public schools will close, and the mayor urged "non-essential" government employees to leave work by noon Friday.
Due to the expected weather, Washington D.C.'s Metrorail will stop running for the weekend at 11 p.m. on Friday, while bus service will stop at 5 p.m. Friday and remain closed through Sunday for the sake of employee and rider safety.
The National Weather Service said in a statement 12 to 16 inches of snow could come down between Friday night and Sunday morning around the Interstate 95 corridor. As much as a foot of snow is possible for Philadelphia's northern suburbs.
The director of the National Weather Service said all the ingredients have come together to create blizzards with brutally high winds, dangerous inland flooding, white-out conditions and even the possibility of thunder snow, when lightning strikes through a snowstorm.
The snowfall, expected to continue from late Friday into Sunday, could easily cause more than $1 billion in damage and paralyze the Eastern third of the nation, weather service director Louis Uccellini sad.
"It does have the potential to be an extremely dangerous storm that can affect more than 50 million people," Uccellini said at the service's Weather Prediction Center in College Park, Maryland.
Virginia Gov. Terry McAuliffe said people should "take the threat of this storm seriously." He warned of travel disruptions and power outages. McAuliffe said crews are treating roads before the weekend storm hits, but state transportation officials urged drivers to stay off roads until the storm passes.
In North Carolina, two people died in weather-related crashes. A 60-year-old woman was driving her car in Stokes County near her home Wednesday when she hit an "extremely icy" patch while driving down a hill, sending her car down an embankment and into a creek, Sgt. Joshua Church said.
In neighboring Forsyth County, Trooper B.M. Bush wrote that a 55-year-old driver slid on an icy roadway, crossed into oncoming traffic and hit a pickup truck head-on.
Quentin Norman, a manager at a gas station and convenience store in Capitol Heights, Maryland, just outside Washington, said his commute home Wednesday took an hour instead of the usual 15 minutes. The traffic and storm "kind of took us by surprise," he said.
"Everybody was talking about the weekend," he said, and assumed that Wednesday's weather would just breeze through.
By morning rush hour, treated roads were mostly clear. But some elevated roads, ramps and side streets were icy with drivers inching along.
In Maryland, crews got stuck in lengthy backups Wednesday night, slowing their progress, state Department of Transportation spokesman Charlie Gischlar said. Major delays continued through the night on the Capital Beltway in Prince George's County, but crews were making progress Thursday morning, he said.
In northern Virginia, minor accidents built to gridlock and ramp closures continued through the night, Virginia Department of Transportation spokeswoman Jennifer McCord said. She described, "a long night for a lot of people trying to get home."
With more winter weather approaching, people throughout the region readied themselves for blocked roads, power outages and canceled flights.
Mitchell Gaines of the National Weather Service in Mount Holly, New Jersey, said people should be prepared for strong winds, heavy, wet snow and power outages.
The National Weather Service's Weather Prediction Center warns of heavy, "perhaps crippling" snow across the northern mid-Atlantic region, including Baltimore, Washington and Philadelphia, probably beginning Friday.
In the areas where blizzard conditions are possible, the weather service warns that travel will be limited or impossible.
------
AIR TRAVEL
All major airlines have issued waivers for travel over the weekend, allowing passengers to rebook onto earlier or later flights to avoid the storms. The airports included vary by airline but include some cities in Kentucky, Tennessee and West Virginia all the way up the coast to New Hampshire and Massachusetts.
------
THE FIRST FLAKES
Snow in much of Kentucky and Tennessee led school districts and some universities to cancel classes Wednesday and contributed to at least one traffic death, and officials warned motorists to be cautious of slick roads.
------
GUARD READY IN WEST VIRGINIA
West Virginia Gov. Earl Ray Tomblin mobilized the West Virginia National Guard to assist in the upcoming storm. The National Weather Service says some areas of the state could get up to 2 feet of snow.
------
GEARING UP IN PENNSYLVANIA
Mike Dunn, deputy communications director for Philadelphia Mayor Jim Kenney, said city trucks would start treating some streets Wednesday night.
"At this point, it is all about being prepared," he said.
PennDOT mechanics were busy making sure trucks were cleaned and in good repair so all equipment is ready to go whenever the snow starts falling, spokesman Gene Blaum said.
"We've used virtually no salt," so far this season, he said. "But winter isn't over."
------
MIXED IMPACT IN NEW ENGLAND
The storm's impact on southern New England remained uncertain Wednesday, but officials were preparing for the worst.
The National Weather Service said there's a potential for 6 inches of snow or more in the region. High winds and coastal flooding are possible.
The storm is expected to miss northern New England. Meteorologist Tom Hawley of the National Weather Service in Gray, Maine, says its path could shift but right now "all indications are that it will not amount to much" in the region.
------
ANTI-ABORTION MARCH STILL ON
Organizers of the March for Life say their annual anti-abortion rally in Washington will be held Friday, as scheduled.
The rally on the anniversary of the Supreme Court's Roe v. Wade decision is one of the largest events on the National Mall. Thousands of abortion opponents gather to listen to speeches before marching to the Supreme Court.
------
STOCKING UP
While the snow fell, some people made their way to the grocery store to stock up on needed items.
In Louisville, Kentucky, Adrian Gardner packed gallons of milk, laundry detergent and bags of groceries into his SUV. None of it was for him.
"It's for my momma," he said. "I don't want her to have to come out in this."
Cary Prince of McLean, Virginia, picked up rock salt at the hardware store, but struck out on snow blower fuel, which was sold out. Still, she was stocked up on the key provision, so all was well.
"I've got my wine," she said.
At a supermarket in Baltimore, Sharon Brewington stocked her cart with ready-to-eat snacks, bread, milk and cold cuts. In 2010, she and her daughter were stuck at home with nothing but noodles and water.
"I'm not going to make that mistake again," Brewington said.
The Associated Press contributed to this report.