South Carolina teen vanishes on her way to school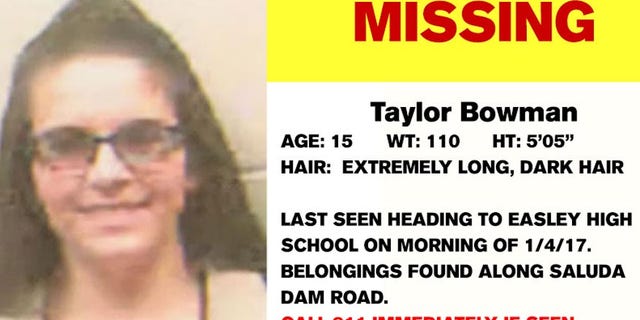 Greenville County deputies are searching for a missing teenager near the Saluda River on Wednesday morning.
Deputies said they were searching the area for 15-year-old Taylor Bowman along Saluda Dam Road. Deputies said Taylor was last seen on the way to school Wednesday morning, but she never arrived.
Unidentified body found in search for missing Los Angeles couple
Some personal items belonging to Bowman were reportedly found on the road near the river at the county line.
She is described a 5 feet, 5 inches tall and 110 pounds with extremely long, dark hair. At this time, Sheriff Will Lewis said no foul play is suspected in Taylor's disappearance.
The Pickens County School District confirmed Taylor is a tenth grade student at Easley High School.
Numerous deputies, a dive team, emergency response team and the sheriff's office helicopter were called out to search for the girl. Investigators were also called to Taylor's home and said her family has been cooperative.