South Carolina Man Kills Ex-Girlfriend, Her Children, Himself, Police Say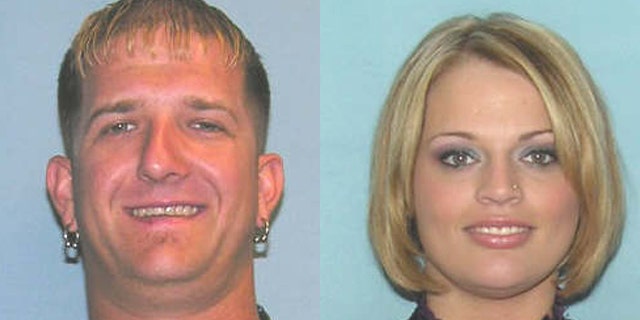 NEWYou can now listen to Fox News articles!
RED BANK, S.C. – As his relationship of several months crumbled around him, Chancey Smith devolved into a drunken depression Tuesday night. A friend called 911 to warn that the 32-year-old, armed with a semi-automatic handgun, was on his way to his estranged girlfriend's South Carolina home and had said he intended to hurt her.
Deputies rushed to the scene, arriving only moments after they believe Smith shot 27-year-old Amanda Peake and her two young children before turning the gun on himself.
Peake's relatives struggled Wednesday to cope with the death of the young mother they described as outgoing and full of life.
"She was the greatest sister in the world," Josh Hartley said about Peake. "How could you ever do that to somebody?"
Lexington County deputies say Smith shot her, then her 9-year-old son Cameron and finally her 6-year-old daughter Sarah inside the family's home in the community of Red Bank around 10 p.m. Tuesday. Deputies say Smith then shot and killed himself. All four were shot in the head with a .40 caliber semi-automatic handgun, Sheriff James Metts said.
Just before the shootings, Smith was drunk, acting erratically and saying that if Peake "didn't tell him what he wanted to hear, then bad things were going to occur," Metts said. After hearing Smith go into another room and load a gun, the friend left Smith's house and called 911. Deputies were sent to Peake's house and arrived moments after the shootings, Metts said.
Going inside, deputies found the children's bodies in the bedroom they shared, each shot once. Peake was in her bed, shot multiple times, Metts said. On the floor of the same room was Smith's body, with a Smith & Wesson .40 caliber automatic handgun laying nearby.
"Smith apparently had made his mind up what he was going to do," Metts said.
A Facebook profile for the 32-year-old from the Orangeburg area listed his interests as motorcycles, hunting and "killing things."
Deputies haven't determined if there were previous reports of domestic violence involving the couple, although a friend said the relationship had become tumultuous. After a weekend with friends at a motorcycle rally in Daytona Beach, Fla., Peake and Smith returned to South Carolina Tuesday, and Smith began moving some of his belongings out of Peake's home, Metts said. Peake's best friend said the single mother was a vivacious person who was trying to get out of what she saw as a failing relationship with Smith.
"She was like, 'I'm done with him. I told him that I didn't want him anymore,'" said Tiffany Jones, 21, said of a conversation she had with Peake about three hours before the shootings. "She was like, 'You can't move in with me, I don't have room for you.'"
Jones said Peake and Smith began dating last fall when they were introduced by friends. Peake had just bought Smith a new motorcycle but wasn't ready for him to move into the Red Bank home with her and her two children, Jones said.
"They were off- and on-again boyfriend and girlfriend," Jones said. "She wasn't very serious about him."
Peake did some modeling and had worked as a loan officer and at a car dealership before taking her most recent job at a tattoo parlor in Columbia.
"You couldn't help but love her," Jones said. "She was the most amazing mom ever."
Inside Peake's one-story, vinyl-sided home on a quiet cul-de-sac that backs up on woods, blood stains were still visible Wednesday on the beige breakfast room carpet. A red couch held a pile of laundry waiting to be put away, with several towels neatly folded on the floor nearby. A single black leather girl's shoe lay abandoned by the front door. Magnets on the refrigerator spelled out "I LOVE MOM" and the two children's names, Sarah and Cameron.
Family friend Margaret Fisher says Peake had been raising her children alone since her husband died in a fire four years ago.
"This is the family that was taken away today," Fisher said, her eyes welling up with tears as she held a framed photograph of the smiling family.
Hartley said he had last spoken to his sister on Tuesday night about her recent breakup.
"It hasn't hit me yet," said Hartley, as he and other relatives gathered photographs and personal belongings from Peake's Wednesday. "I don't wish this on anybody else. Love your family while you've got them."
Neighbor Tammy Smith said she struggled with how to explain the deaths to her 11-year-old son, who recently threw a football with Cameron in the neighborhood's cul-de-sac.
"What do I tell Dawson?" Smith wondered. "Do I tell him that they just moved?"