Skeletal remains confirmed to be Arkansas woman, 18, who vanished in 2015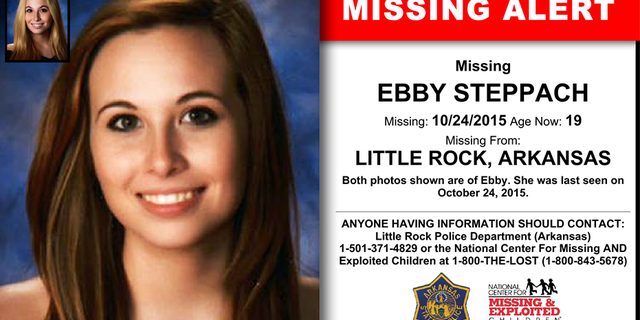 NEWYou can now listen to Fox News articles!
Human remains discovered in an Arkansas park on Tuesday have been positively identified as those of Ebby Steppach, a teen who went missing in the Little Rock area in 2015.
Police confirmed the news in a video posted online Wednesday.
Steppach was 18-years-old when she was last seen on Oct. 24, 2015 in Little Rock. Her car was found abandoned at Chalamont Park, where her body was found this week, Fox 16 reported.
Authorities used robots with video cameras to scope out drainage pipes in the park, the Little Rock Police Department said. Skeletal remains were found in an underground pipe in the park close to where Steppach's car was discovered in 2015.
Her family, in a post published to Steppach's official Facebook search group, thanked everyone who "supported efforts to find Ebby."
"Her story has touched many in ways that she could not have ever imagined," the post stated, noting that "the search to find Ebby has sparked open conversations and brought a heightened awareness to missing children and young adults, the existence of sex trafficking, along with the need for improved policies and processes within the law enforcement community in these areas."
The family said that "It has been through your support, many prayers and God's strength that they have been able to make this journey ... God answered the family's prayers to find Ebby."