Sessions doubles down on zero-tolerance policy in speech addressing the 'crisis' at the border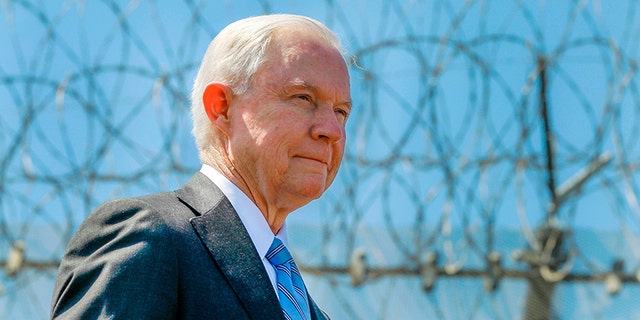 NEWYou can now listen to Fox News articles!
Attorney General Jeff Sessions doubled down on his "zero-tolerance" policy on Tuesday when he told a crowd of law enforcement officers near the border that the Department of Justice would be stepping up its efforts to "achieve zero-tolerance, zero releases and 100 percent prosecution."
Speaking at the Texas Border Sheriff's Coalition Annual Spring Meeting with the Southwestern Border Sheriffs' Coalition, Sessions addressed 31 departments from Texas, New Mexico, Arizona and California, all of which are responsible for patrolling areas within 25 miles of the U.S.–Mexico border.
"Officers on the border are facing ... the most significant challenges still," he said. "You have limited resources, you have manpower needs, bed space needs, equipment needs and you face a particularly violent threat every day. We have a crisis here. We know it, the president knows it and we're determined to do something about it."
Sessions' visit comes after the Justice Department announced it would be implementing a "zero-tolerance" policy on illegal border crossings.
Sessions slammed Congress on Friday for failing to pass "effective legislation that serves the national interest," emphasizing such things as a lack of proper funding to build the wall along the southern border.
He said that "the failure of Congress to move on the wall and other necessary steps is sending a message I am afraid that we are not resolute and it encourages more people to make the trip."
Sessions added, "We're going to step up our efforts to achieve zero-tolerance, zero releases and 100 percent prosecution."
JUSTICE DEPARTMENT ANNOUNCES 'ZERO-TOLERANCE' POLICY ON ILLEGAL BORDER CROSSINGS
Illegal border crossing in March increased by 37 percent, resulting in more than 50,000 immigrants to the United States, which was triple the number of reported illegal border crossings in the same period last year.
Sessions spoke of a four-part plan to "take criminals off the street" by restoring the "rule of law" which he says will ultimately help to fix the immigration system.
The first measure includes the president's order to send the National Guard to the border. President Donald Trump signed a proclamation last week asking the National Guard to send 2,000-4,000 troops to the border.
The second measure will include processing a backlog of cases in the immigration courts, a take Sessions calls "a challenge."
"We are bringing in as much as 100 immigration judges to the border areas so that we can process these cases more effectively," the attorney general said. This includes judges who can use video conferencing to hear more cases. He is asking that judges complete at least 700 cases a year.
TRUMP'S NATIONAL GUARD REQUEST FOR US-MEXICO BORDER DRAWS RESPONSE FROM SURROUNDING STATES
The third policy will involve a "border security coordinator in each U.S. attorney's office," whose job will be to restore law in the immigration system in every state.
The final measure looks to completely end the "catch and release" policy.
"We are strong, prosperous and an orderly nation, and such a nation must have a lawful system of immigration," Sessions said.
Sessions also took a shot at so-called sanctuary cities, saying that their "extreme open borders policy" is "blocking us from the ability to identify" those who enter their communities with drugs or the intent to commit other crimes.
"City-states and counties that knowingly, willfully and purposefully release criminal aliens back into their communities are sacrificing the lives and safety of American citizens, law enforcement officers in pursuit of an extreme open borders policy," he said.
Fox News Adam Shaw and The Associated Press contributed to this report.