SeaWorld cited over safety of trainers who work with orcas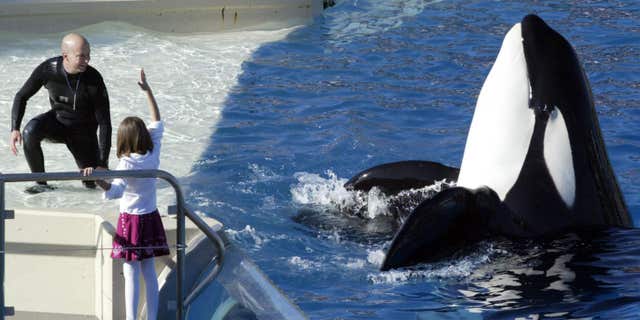 SAN DIEGO – SeaWorld — whose safety practices have been under scrutiny since an animal trainer was killed in 2010 by an orca at its Orlando, Florida, park — has now been cited for not adequately protecting its killer-whale trainers at its park in San Diego.
The California Division of Occupational Safety and Health issued four citations this week that carry nearly $26,000 in fines. SeaWorld Entertainment Inc. said in a statement that the citations show a "fundamental misunderstanding" of what's needed to care for orcas and that it plans to appeal.
According to the citations, the park hasn't kept employees aware of the dangers posed by orcas, and it required them to sign an annual confidentiality form that discouraged trainers from reporting hazards for fear of reprisal. They say employees ride and swim with killer whales in the park's medical pool — although keepers have not been allowed in the Shamu Stadium pool during orca shows since the Orlando death. It also cited SeaWorld for allowing trainers to be with orcas in shallow areas on the edges of pools known as "slide outs."
The theme park also is accused of not effectively training its employees and supervisors to safely interact with killer whales. The citations stem largely from an inspection on Oct. 29.
The company's safety practices have drawn fire since SeaWorld trainer Dawn Brancheau was killed in 2010 when killer whale Tilikum grabbed her and pulled her into a pool.
SeaWorld was cited for violating federal safety workplace following an investigation into Brancheau's drowning that found the park had exposed its trainers to recognized hazards when working in close contact with orcas during performances.
The company said in a statement that it has since made improvements to its killer-whale program, including fast-lifting pool floors that could help to quickly separate trainers from a killer whale.
It noted that the San Diego park citations "were not precipitated by any workplace incident, accident or injury, and they reflect a fundamental misunderstanding of the requirements of safely caring for killer whales in a zoological setting."
The safety of its employees and welfare of the animals is a top priority, the company said.
Tilikum became the focus of the 2013 documentary film "Blackfish" that suggested the treatment of captive orcas provokes violent behavior. Park attendance dropped after the release of the documentary.
Animal-rights groups have filed lawsuits to force an end to its popular killer whale shows.
"SeaWorld resists safety reforms every step of the way because it puts profit before the welfare of its employees and the orcas confined so miserably to its tiny concrete tanks," said Jared Goodman of People for the Ethical Treatment of Animals, or PETA, that has sued SeaWorld to demand the orcas be freed. "With the life-threatening dangers to trainers and the detrimental effects of enslaving intelligent, social, and far-ranging orcas, SeaWorld's tawdry shows will soon be a thing of the past. SeaWorld needs to make the only responsible and humane choice and release its captive orcas to coastal sanctuaries."