Pennsylvania school faces backlash after mock shooter wears Arab headscarf during training drill
NEWYou can now listen to Fox News articles!
HARRISON CITY, Pa. – A Pennsylvania school's active-shooter training drill has been criticized after the man posing as the attacker appeared to be wearing an Arab headdress.
The Penn-Trafford School District said Wednesday that organizers didn't intend to portray the shooter as Arab or Muslim at the January training. The actor posing as the shooter appeared to be wearing a kaffiyeh, which is a traditional headdress worn in the Middle East.
MUSLIM GROUPS APOLOGIZE FOR VIDEO: MISTAKE 'OURS TO OWN'
The security training company that staged the drill, Command Excellence, told the Pittsburgh Post-Gazette that the school was given props to disguise the participants. One of those props, the company said, was a neck scarf, John Sakoian, president and founder of Command Excellence, told the publication.
"He completely, innocently converted it to that," Mr. Sakoian said. "It's not just a Muslim headdress. It was a neck scarf."
The district said that the person portraying the shooter also wore a long blond wig and a paintball mask.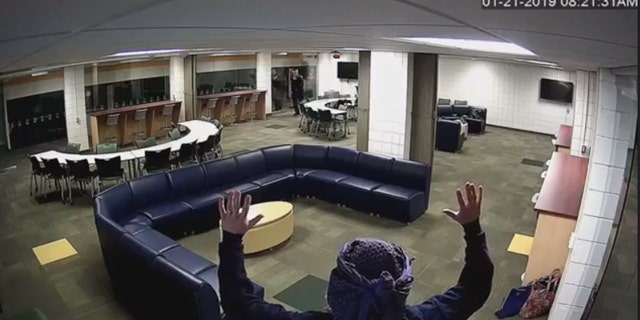 IRANIAN STUDENTS PROTEST COLLEGE'S COMPULSORY HIJAB POLICY AND 'MORALITY' ENFORCERS
The Islamic Center of Pittsburgh says "to stereotype the shooter is appalling given the data on active shooters and the recent shootings at the Tree of Life and Christ Church."
The video was for internal teacher training only, but footage was posted on social media this week.
CLICK HERE TO GET THE FOX NEWS APP
The Associated Press contributed to this report.