Same sea lion eyed in two separate attacks in San Francisco cove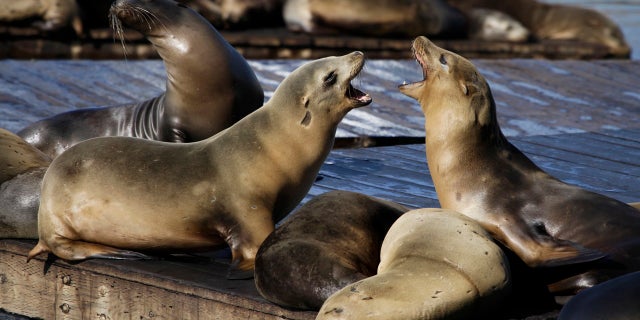 NEWYou can now listen to Fox News articles!
The same sea lion trailed and bit a swimmer on Thursday and may have attacked another on Friday at Aquatic Park in San Francisco.
Lynn Cullivan, spokesperson of the San Francisco Maritime National Historic Park, said the aggressive behavior is so unusual for sea lions that officials think the same animal attacked both swimmers.
Claire Simeone, a conservation medicine veterinarian at the Marine Mammal Center in the Marin Headlands, told The San Francisco Chronicle that she also suspects the attacker was the same animal in each instance, but there is almost no way of determining that or figuring out why it has chosen to go on the offensive.
Christian Einfeldt was the swimmer bit and seriously injured on Thursday. He believes the animal trailed him as he swam from the beach to the mouth of the cove.
When the sea lion got near Einfeldt, he splashed water on it, but the animal did not go away, said Matthew Reiter from the San Francisco Police Department's Marine Unit.
"When it didn't work, he yelled at it and then the sea lion came up and bit him on the arm," Reiter said.
A third attack occurred around 8 a.m. on Friday, injuring Rick Mulvihill and prompting officials to close the cove, The Chronicle reported.
The latest attacks are mysterious, the newspaper reported.
"Certainly it is concerning because it's happened twice in 24 hours," Simeone told The Chronicle. "We know that historically these bites are pretty infrequent."
A witness who has frequented the cove for 50 years said he's "never heard of anything like this."
"You have a lot of very, very nervous swimmers now and I don't blame them," he said. "It's pretty bad when you get bit by a seal."
Cullivan said the first two swimmers bitten were closer to the bay than the shore when they were attacked.
"People think the bay is their backyard, but it really is the beginning of the wilderness," Cullivan said. "There is wilderness out there."
One expert questioned whether the aggressor was a harbor seal and not a sea lion. Experts say the two species are difficult to differentiate in the water, the newspaper reported.
Swimmers say harbor seals are more common at Aquatic Park, but sometimes sea lions driven away by rivals at Pier 39 swim over, the newspaper reported.
The Associated Press contributed to this report.