Rob Reiner, Julian Castro among protesters calling to free kids from Texas 'tent city'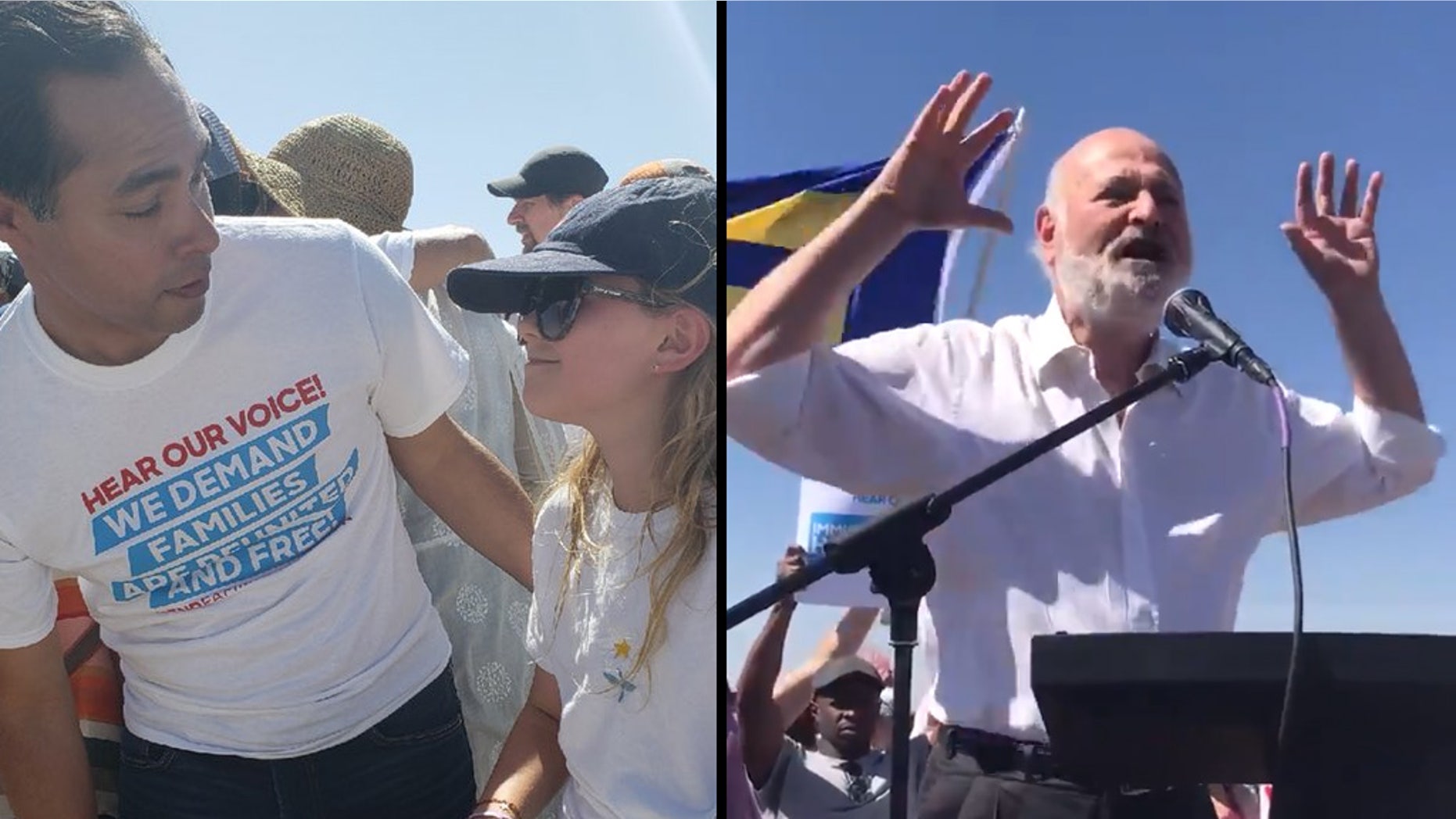 Former HUD Secretary Julian Castro and film director Rob Reiner joined dozens of protesters in Texas Sunday to call for the release of hundreds of minors from a tent shelter housing immigrants who illegally crossed the U.S.-Mexico border.
Reiner, Castro and other speakers slammed President Trump's immigration policy at the Tornillo border crossing, while the crowd chanted, "free the children now" and "people united will never be divided," the El Paso Times reported.
"He is stoking racism, he is hoping that the racists who support him will come out in November," Reiner said of Trump. "But we've got news for him: We're gonna come out in November, we're all gonna be there, and we're gonna stop this inhumane, disgraceful policy."
The Tornillo site holds more than 200 minors, most of them unaccompanied. Rep. Beto O'Rourke, D-Texas, told reporters Saturday that 23 children at the site were separated from parents detained for illegally crossing into the U.S.
AS LAWMAKERS VISIT TEXAS TENT CITY, FIRST GROUP OF MIGRANT GIRLS ARRIVES
"We were able to meet kids who've been separated from their parents, who arrived here to the U.S.-Mexico border from Guatemala," O'Rourke said. "Their parents have already been deported to Guatemala. They're here in this country without their parents."
The Department of Homeland Security said late Saturday that 2,053 minors who were separated at the border were being cared for in facilities funded by the Department of Health and Human Services. Lawmakers who toured the Tornillo facility Saturday said the children were well-cared for, but added that they still shouldn't be there.
"The fact that they're out here in the 105-degree weather in the desert is a symptom, I think, of a moral failing on behalf of the United States government," said Texas Democratic Rep. Joaquin Castro, Julian's twin brother.
On Wednesday, President Trump signed an executive order aimed at halting the separation of migrant children from their parents. However, the administration has said its "zero-tolerance" policy of criminally prosecuting anybody caught illegally crossing the border remains in effect.
Last week, Justice Department officials asked a federal judge to amend a class-action settlement that governs how children are treated in immigration custody.
Fox News' Madeleine Rivera in Tornillo and The Associated Press contributed to this report.