Rescuers find pair of skiers stranded on Alaska glacier for days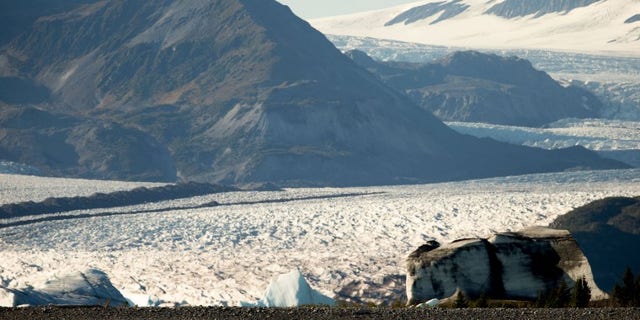 ANCHORAGE, Alaska – Rescuers on Tuesday picked up two skiers who were stranded on an Alaska glacier for four days.
The experienced outdoor enthusiasts were in good condition after braving fierce winds and snow by digging a snow cave for shelter.
A break in the weather allowed an Alaska Air National Guard helicopter to land on Bear Glacier to reach Jennifer Neyman and Christopher Hanna. Rescuers assessed the health of Neyman and Hanna before they were flown to Central Peninsula Hospital in Soldotna.
Hospital spokeswoman Camile Sorenson said Hanna felt so good, he didn't check in. Neyman was being evaluated, she said.
"They had to dig out 4 feet of snow around the survivors to get to them," said Guard Lt. Col. Matt Calabro, 38, the director of operations for the 210th Rescue Squadron, which flies the helicopters.
He said they were in good spirits and uninjured.
"Being on the mountain that long, in the cold, in the snow, isolated, we are going to take them to the hospital," Calabro said. "We just want to make sure they are safe."
An airplane had dropped off Neyman, 36, and Hanna, 45, on Friday but could not return that night because of bad weather. Though planning to spend just one day on the glacier, they carried a light tent and two days of provisions, plus communication devices important to their rescue.
Strong wind and snow shredded their tent Saturday. They dug snow shelters but were running out of fuel for their cook stove.
Neyman and Hanna used cellphone calls and satellite text messages to communicate with friends and rescuers. Satellite coordinates indicated the duo were at the 4,300-foot level of the 13-mile-long glacier, one of more than 30 in the Harding Ice Field, the largest ice field entirely within U.S. boundaries.
Strong winds and low clouds hampered rescue efforts.
"The terrain there is pretty gnarly," said Calabro, 38, who also was the helicopter pilot on Monday's attempt to rescue the two skiers.
"High mountain peaks, clouds, snow, icing and the glaciers, so everything is white-on-white," he said. "It's like what we call flying in a pingpong ball."
Besides the white-out conditions, there were 30 mph winds with higher guests. "You can only go as far as you can see, so it's a really dangerous environment to fly in," he said.
He attempted to put a four-man rescue team on the ground Monday when he couldn't land the helicopter. The first attempt, about 8 miles from the skiers, was aborted because of huge crevasses on the glacier, which would have made for dangerous overland conditions.
The rescue team was eventually lowered to a nearby glacier that doesn't have many crevasses. The team was making the approximate 15-mile hike to the survivors when weather cleared Tuesday.
A Guard helicopter pinpointed the skiers' location Tuesday, and crew members spotted skis believed to mark the entrance of a snow cave they dug.
The Guard's Rescue Coordination Center had received a satellite text message from the two earlier Tuesday saying they were "OK."