Professor required students to praise Allah, remove shoes before entering office
A controversial Muslim professor at the University of Connecticut retired this past year after students complained that he required them to say an Arabic phrase and remove their shoes before entering his office.
Retired biology professor, Felix Coe, taped two signs outside his office requiring students to say "Bismillah," an Arabic phrase meaning "in the name of Allah" before entering his office, CampusReform.org reported. Visitors were also required to remove their shoes.
"I'm a Muslim. You don't come in my office with dirty shoes. That's a curse," Coe told a student, after telling her to "get the hell out" and "I don't want to see you" for wearing shoes in his office in an undated audio clip recently released by Jihad Watch.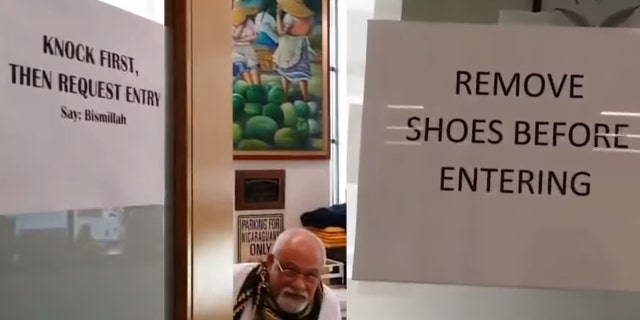 When asked by two individuals why he required students to say "Bismallah" and take their shoes off at a public university, he said, "Because I'm a Muslim." He also complained he didn't have a separate place for prayer in a video taken last December.
UConn spokesperson, Stephanie Reitz, told Fox News that Coe retired since the video was taken and the signs were quickly taken down from the satellite campus location in Hartford, Conn.
"Regarding this instance, the sign that had directed guests to precede their conversations with a specific Arabic phrase was immediately removed at the university's direction," Reitz said in a statement. "UConn promptly resolved the issue in a manner that respects the rights of all involved, and affirms the university's values of civility and inclusivity."
DOUBLE STANDARD? UCONN INVITES LINDA SARSOUR AFTER RESTRICTIONS ON BEN SHAPIRO SPEECH
Reitz added that other rooms are provided, aside from the professor's office space, at all their locations for faculty to meet with students and other guests.