Pregnant woman begs for help in 911 call after baby allegedly cut from womb by stranger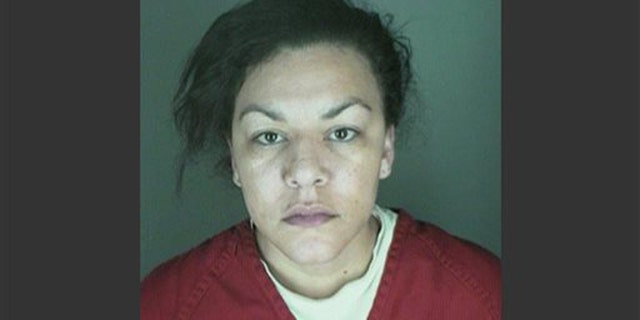 A 26-year-old Colorado woman whose baby was cut from her womb -- and later died -- managed to lock herself inside the alleged attacker's basement and tell a 911 dispatcher she is "bleeding out."
"She cut me," Michelle Wilkins told the dispatcher -- her voice at times faint and incoherent -- according to the Denver Post, which obtained an audio recording of the emergency call made Wednesday morning from a home in Longmont, Colo.
The woman, who was nearly eight months pregnant, had responded to a Craigslist ad for baby clothes when she was allegedly attacked by 34-year-old Dynel Lane inside Lane's home.
Lane, a married mother of two and certified nurse's aide, stabbed the woman in her belly as she was leaving Lane's apartment Wednesday morning and removed her fetus, authorities said. The baby later died.
According to the police report, Lane's husband, David Ridley, came home Wednesday to take his wife to a prenatal checkup and found Lane covered in blood.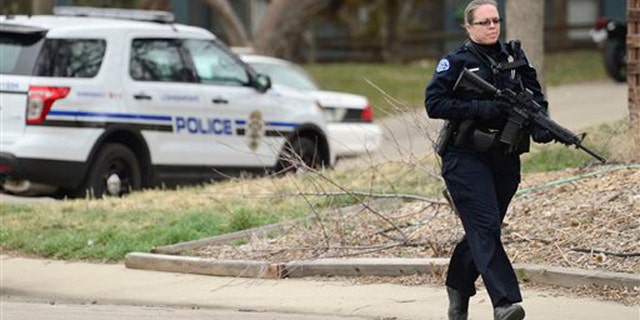 Lane told her husband she had suffered a miscarriage and that the baby was in an upstairs bathtub, according to authorities. Ridley told police he "rubbed the baby slightly then rolled it over to hear and see it take a gasping breath," the newspaper reported.
Ridley took Lane and the baby to a hospital, where she was arrested on suspicion of attempted first-degree murder and other crimes.
The baby's mother, meanwhile, lay bleeding profusely inside Lane's basement.
While drifting in and out of consciousness, the victim told police she did not know Lane and went to her house in response to the ad, according to the 911 call.
"Help, help me," the woman says in the nearly seven minute phone call.
"Don't go to sleep," the dispatcher says repeatedly as she assures the woman that help is on the way. The victim was later transported to a hospital where she underwent surgery and is expected to survive.
A judge ordered Lane be held on $2 million bail at her first court appearance Thursday at the Boulder County jail. Lane is being held on suspicion of attempted first-degree murder, first-degree assault and child abuse knowingly and recklessly resulting in death. The Boulder County district attorney's office said it plans to file formal charges Wednesday, according to the Denver Post.
In the arrest affidavit obtained by the newspaper, a doctor at Longmont United Hospital told police, "the person who did the incision would have to have researched the subject of cesarean births in books or online to achieve the level of accuracy."
Lane went to great lengths to show her family she was pregnant, sharing an ultrasound photo with her daughter, according to police.
Lane and her former husband lost a 19-month-old boy in a drowning accident in 2002. Her then-husband wasn't home at the time, the Pueblo Chieftain newspaper reported. She and their two daughters, then 5 and 3, searched for the boy until they found him in a fish pond.
He had been playing a game with his sisters while their mother was busy in another part of the house, the newspaper said.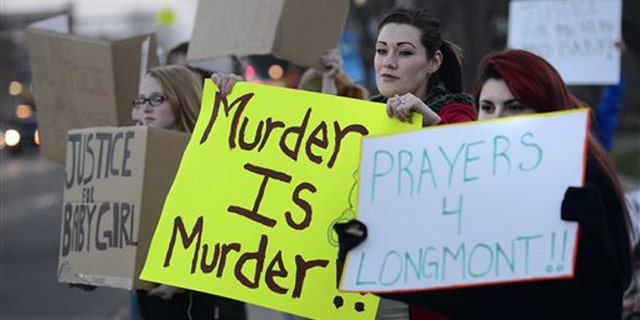 The gruesome crime Wednesday is reviving the highly charged debate over when a fetus can legally be considered a human being.
In the past two years, Colorado twice rejected efforts to make the death of a fetus a homicide. The Democratic-led Legislature voted down a bill in 2013, and 65 percent of voters rejected a ballot measure last year that would have granted legal rights to unborn fetuses, the third rejection of a "personhood measure."
That leaves the state as one of 12 without a law allowing homicide charges in the violent deaths of fetuses -- and the fate of Lane up in the air.
Stan Garnett, the district attorney of liberal Boulder County, said during a news conference Thursday that Colorado law makes it challenging to file homicide charges when fetuses are killed.
"Under Colorado law, essentially no murder charges can be brought if the child did not live outside of the mother," Garnett said.
The legal complexity seems unnecessary to some. "It's literally absurd," said Keith Mason, the president of Personhood USA, the anti-abortion group that spearheaded the push for Colorado's fetal homicide laws.
Click for more from the Denver Post
The Associated Press contributed to this report.