Residents living near Portland's Willamette River have witnessed a series of homeless cabins and structures being built on prime river real estate with "million-dollar" city views but have so far been unable to get anyone to do anything about it.
"Pretty much everyone comes back and says that they don't have jurisdiction because it's Union Pacific, it's a railroad," Ric Scaramella, who owns a condominium on the other side of the Willamette River, told KOIN in a report Thursday.
Scaramella told the outlet that people across the river from his home have been building makeshift cabins, complete with doors, windows and sometimes even solar panels, on the banks of the river that feature views of downtown Portland.
PORTLAND MAN ARRESTED AFTER TERRORIZING DOWNTOWN AREA, 'CHASING PEDESTRIANS' WITH STOLEN FORKLIFT: POLICE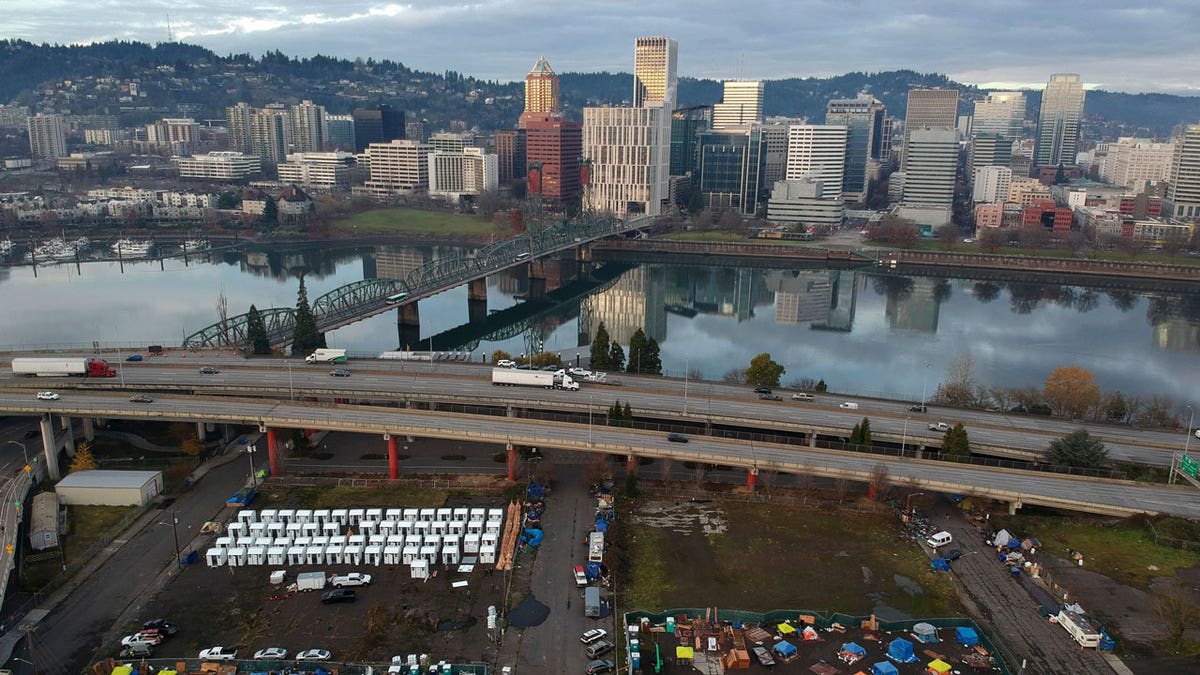 Scaramella said he can see "about nine structures" built on the banks of the river, making clear that they are not tents. These are structures."
The resident said he is concerned for the people living in the structures, noting that there are no city services and that pollution might be flowing from the buildings into the river. Yet, in what he says have been "30, 40" attempts to report the structures to local and state agencies, nobody has had a solution to the issue.
According to a reporter for an outlet who took a boat to get a closer look at the structures, many of the buildings are made out of driftwood and resemble beaver dams, while further down the river there was a collection of garbage and debris on the shoreline.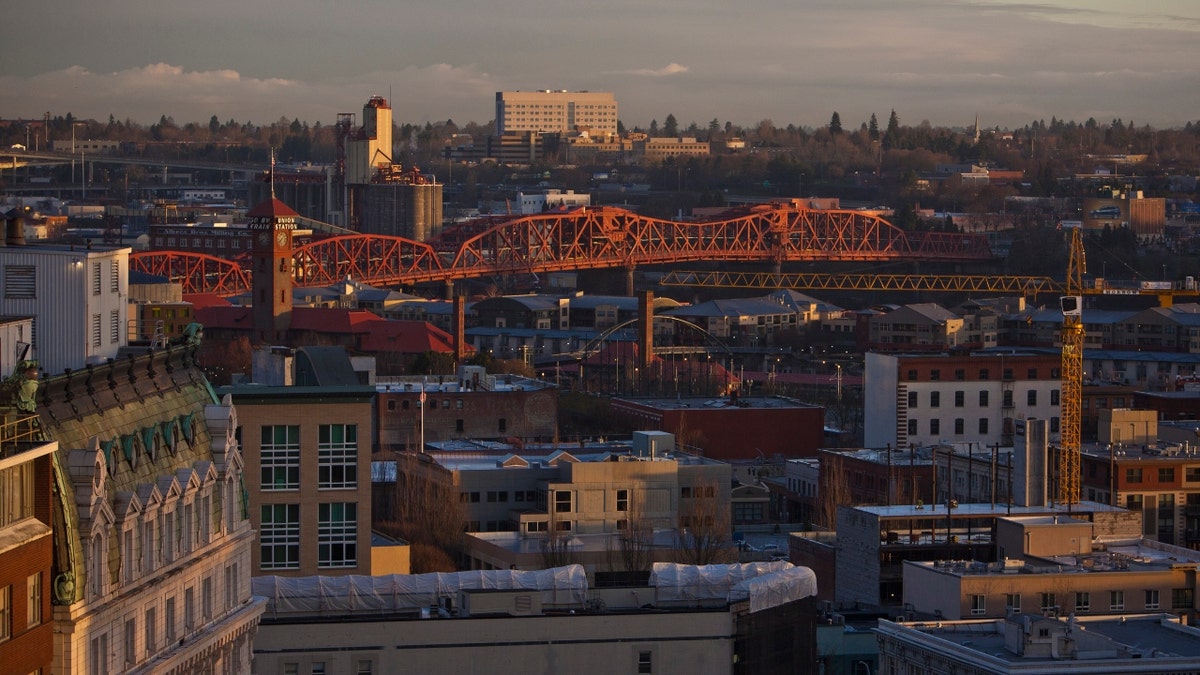 PORTLAND MULLS COSTLY PLAN TO BUILD SHED-LIKE SLEEP 'PODS' AT HOMELESS CAMPS
One woman who identified herself only as "Paula" agreed to chat with the outlet, telling KOIN that she has lived on her spot along the shore "off and on about a year and a half."
"I have anxiety issues, and I think I have personality disorders, too, that I'm dealing with. I think that's what's kept me out here so long," Paula said, admitting that she has become addicted to meth since suffering a bad breakup.
"There's a few shelters I like. They would have been great except for the no-drugs thing. That sucks. I don't think drugs are my problem," she said. "I think my problem is I have no place to wash my hair and go to the bathroom."
So far, no government agency has claimed responsibility for the area occupied by the structures, with multiple agencies telling KOIN that the property is owned by railroad company Union Pacific. Meanwhile, Union Pacific says the area is governed by complex common-law rules.
PORTLAND RESIDENT DELIVERS OMINOUS WARNING AFTER THREATS FROM HOMELESS MAN: 'SOMETHING'S GOING TO HAPPEN'
"Union Pacific Police regularly patrol our property and enforce trespassing laws; however, this area is particularly challenging to enforce, because cabins are near the water's edge. Under Ordinary High Water Mark common law, the boundary separating public land from private land is determined by natural fluctuations of the water, making it a legal gray area," the company said in a statement to KOIN.
The Oregon Department of State Lands isn't so sure, telling KOIN that jurisdiction of the area depends on where the riverbank ends.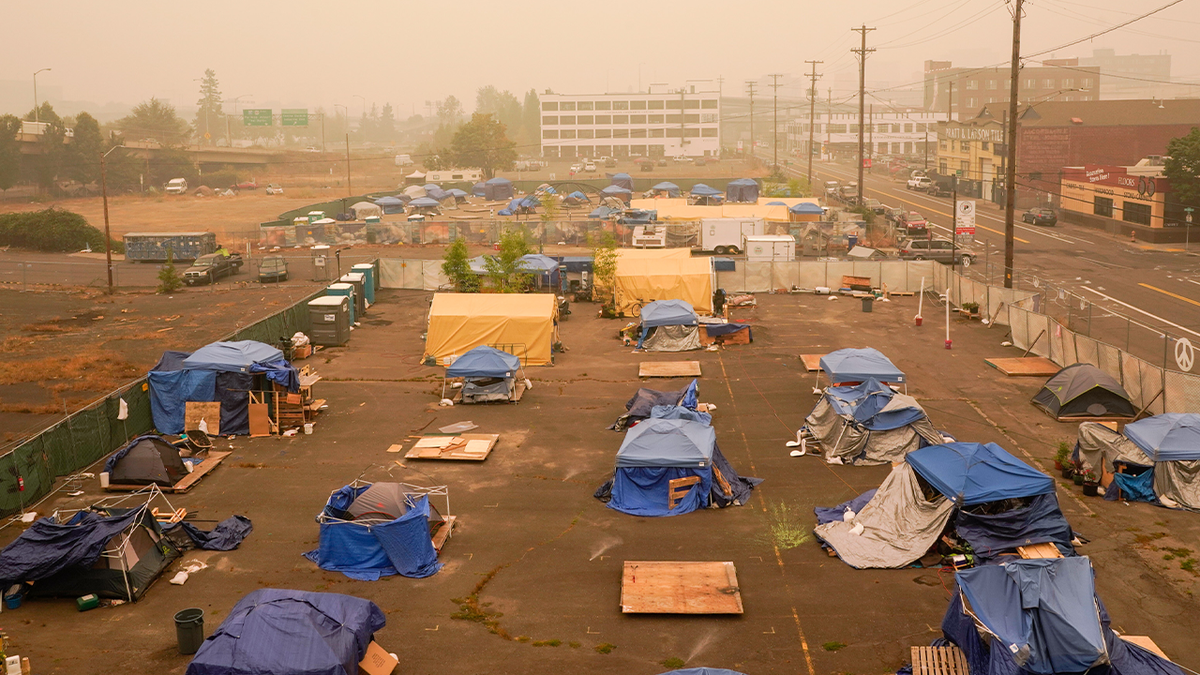 "The bad news is, at this point, it's hard to say if we have a role. Where public ownership of the riverbed/bank ends and upland ownership begins is complicated," the agency said.
The city of Portland has also declined to take responsibility for the area, arguing that the structures sit on land owned by Union Pacific or the Port of Portland. The Oregon Department of Environmental Quality and the Army Corps of Engineers also told KOIN they play no role in overseeing the area.
CLICK HERE TO GET THE FOX NEWS APP
But Paula, who hopes to get placement in a county-sponsored rehab clinic soon, said those complaining about the encampments should treat people with love.
"You get PTSD out here, for sure," she said. "What do I say to people who are frustrated? You know love is everything. It's how we treat each other. People are so quick to be angry."