Police ID 4 found slain in NY park in suspected gang killing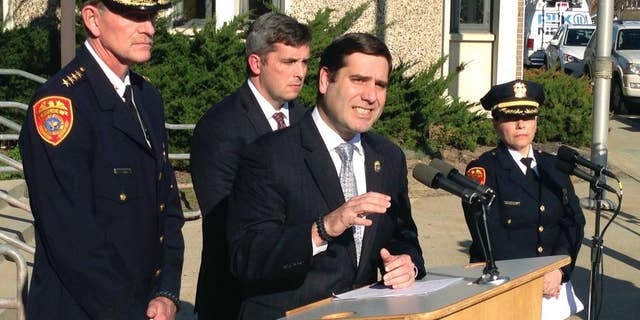 NEWYou can now listen to Fox News articles!
BAY SHORE, N.Y. – Police have identified the four young people found dead in a suspected gang killing in suburban New York.
Police say the four were discovered in a wooded area near a soccer field in Central Islip (EYE'-slihp) on Wednesday.
Suffolk County police Commissioner Timothy Sini says the four are 18-year-old Jefferson Villalobos, of Pompano (PAHM'-puh-noh), Florida; 18-year-old Michael Lopez Banegas, of Brentwood; 18-year-old Jorge Tigre, of Bellport; and 16-year-old Justin Llivicura, of East Patchogue (PACH'-awg).
He says detectives believe the MS-13 street gang may be responsible for the deaths. He won't comment on reports a video of the crime scene was sent to one of the victims' girlfriends.
At least 11 suspected gang killings have taken place in the Central Islip and Brentwood communities on Long Island since last September.