Pilot killed in crash during stunt at Atlanta airshow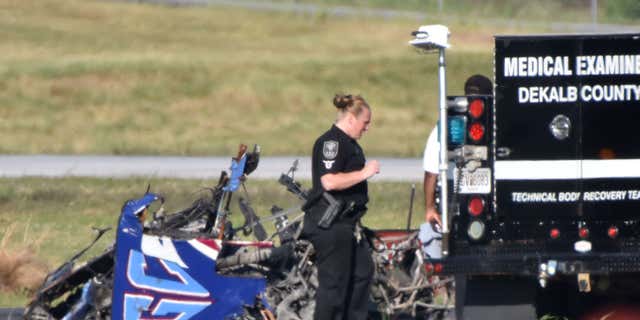 NEWYou can now listen to Fox News articles!
A pilot was killed in a crash Saturday at an Atlanta airshow after the stunt he was performing went wrong.
DeKalb County Public Information Officer Sheira Campbell said the pilot crashed and died while flying tandem with another plane during an aerial acrobatics stunt at the Good Neighbor Day Airshow at DeKalb Peachtree Airport. The airport is located about 11 miles northeast of metro Atlanta.
DeKalb County spokesman Burke Brennan said in a statement the pilot was the only one in the biplane when it crashed at about 4:45 p.m. It was the first accident in 30 years of the PDK Good Neighbor Day Airshow, Brennan said.
Campbell also said there were no other injuries on the ground and there was no other damage other than the aircraft.
Friends and families identified the pilot as Greg Connell, a South Carolina native, late Saturday.
"I knew the pilot personally. I don't want to go any further. I'm just emotional," PDK Director Mario Evans told Fox 5 Atlanta.
Gary Ward flew the other plane in the maneuver that went wrong.
"Greg flew underneath me and I had no idea Greg crashed like a second later. So I pulled off and the plan we had," Ward told WSB-TV. "I came back in the show for the next maneuver. We did individual maneuvers at that point, and I went ahead and did my next maneuver, not knowing that Greg had crashed."
Campbell said the National Transportation Safety Board and Federal Aviation Administration were both on the scene and investigating.
"A tragedy occurred as professional pilots entertained and educated thousands today," DeKalb County Interim CEO Lee May said in a news release. "Our thoughts and prayers are with the family and friends of the pilot who lost his life."
The Associated Press contributed to this report.