Pa. couple deny mistreatment of adopted Russian teen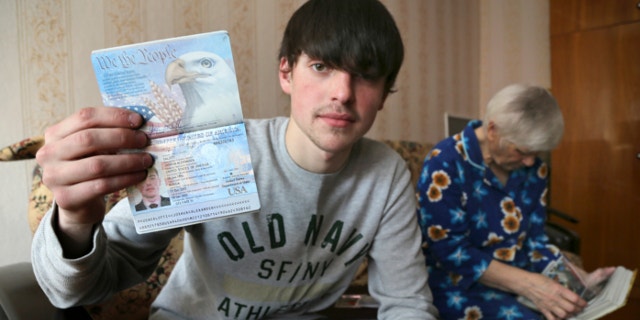 COLLEGEVILLE, Pennsylvania – A couple from the Philadelphia area say they are shocked and hurt by accusations of mistreatment by an adopted son who left and went back to Russia.
Alexander Abnosov, 18, who was renamed Joshua Salotti when he and another youth were adopted five years ago, told Russian state-controlled media that his adoptive family treated him badly and that he lived on the streets of Philadelphia and stole just to survive.
Russia's Channel 1 and Rossiya television reported this week that Abnosov had returned to the Volga river city of Cheboksary, where his 72-year-old grandmother lives. He complained to Rossiya that he fled home because of conflicts with his adoptive mother, who was "nagging at small things," and said he stayed on the streets for about three months.
"My reaction to that, it's very hurtful because we poured our lives into these boys," Abnosov's adoptive father, an emotional Steve Salotti, told a Philadelphia TV station.
The Kremlin has stoked anger in recent months over the treatment of Russian children adopted by Americans in order to justify its controversial ban on U.S. adoptions. The ban came in retaliation for a new U.S. law targeting alleged Russian human-rights violators.
Steve and Jackie Salotti of suburban Collegeville told WPVI-TV that they adopted the two 13-year-old boys in 2008 after raising three children of their own, and tried to raise them as typical American children, with fishing trips, barbecues, pets and Christmas presents.
All went well, they said, until Josh turned 18 and went on a trip back to Russia, where he was introduced to drugs and alcohol. They said they noticed a change in his behavior and established house rules including no drugs or alcohol, drug testing, no disrespectful talk to them or to teachers, counseling and a curfew.
Their other adopted son agreed to abide by the rules, the couple said, but Josh eventually left and went back to Russia, where he made public accusations of mistreatment.
"With the press pounding on the door and Russia putting these programs on the television, I just couldn't believe what I was hearing," Steve Salotti said.
The couple hired a lawyer to help them handle what is expected to become an international political firestorm between the U.S. and Russia.
Family attorney Charles Mandracchia said it was "outrageous" that his clients were "being made out as villains."
"Why the Russian government or the American government would allow this to happen is beyond me," he said.
"Russia's going to do what Russia's going to do," Jackie Salotti told the TV station.
But while the couple said they are angry and saddened by the rift between the two countries, "it doesn't change the fact that we're concerned about our son and what's happening to him in this," Steve Salotti said.
An estimated 60,000 Russian children have been adopted by Americans in the past two decades, but at least 20 adopted children have died. Incidents of alleged mistreatment have been reported widely in Russia and helped to drive resentment over adoptions.