Outrage grows over police killing of Stephon Clark in Sacramento: '20 shots over a cellphone'
Outrage is building over the deadly police shooting of an 22-year-old black man who was in his grandparents' backyard, unarmed, earlier this month. Police had said officers were fearing for their safety, but critics have questioned why they chose not to resolve the situation with something significantly less lethal than a barrage of 20 bullets.
Stephon Clark was shot and killed March 18 after two Sacramento police officers were responding to a report of somebody breaking car windows. Police said they believed Clark was the suspect and he ran when a police helicopter responded, then failed to obey officers' orders.
Police said they thought Clark was holding a gun when he moved toward them, but he was found only with a cellphone.
The shooting has moved the Black Lives Matter movement back into the forefront. Two of the officers have been identified in media reports, which say one is white and one is black.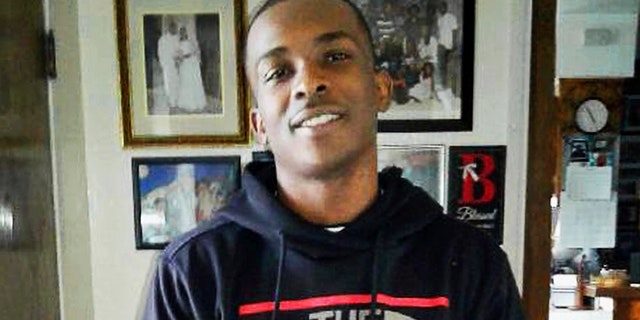 Sgt. Vance Chandler of the Sacramento Police Department told Fox News, "At this point, the investigation is ongoing. Our department is committed to providing the facts of this case and conducting a thorough, comprehensive and fair investigation. We will continue to be transparent and update our community as we have updated information."
It is rare for police officers to be charged following a shooting and rarer still for them to be convicted. Oftentimes it's because of the doctrine of reasonable fear: if prosecutors or jurors believe that officers have a reason to fear for their safety, they can use force up to and including lethal force.
Clark's relatives have said they're not expecting a resolution in their favor.
"…We appreciate the conversation, but conversation without implementation of some true reformation means nothing," Clark's uncle, Curtis Gordon, told The Associated Press in an interview Tuesday. "It brought us to this moment, but what about tomorrow? What about next week?
He added, "You know, sadly, I have no confidence in America and the fact that I will probably hear another story sometime this year of an innocent life lost over excessive police force. It's so common, you're numb to it."
Demonstrations in California have been growing since Clark's death. Protestors were there Wednesday for Clark's wake, and were expected on Thursday when the Rev. Al Sharpton plans to deliver the eulogy at Clark's funeral.
"This feels like the '60s, it doesn't feel like 2018," said Cynthia Brown, who said she knows Clark's grandfather, at the Wednesday public wake. "We've definitely regressed."
Protestors disrupted a Sacramento City Council meeting Tuesday night amid calls for justice, as Fox News previously reported. Clark's brother, Stevante, along with other demonstrators, attended the early-evening meeting, which opened with a moment of silence for Clark and was intended to address his death.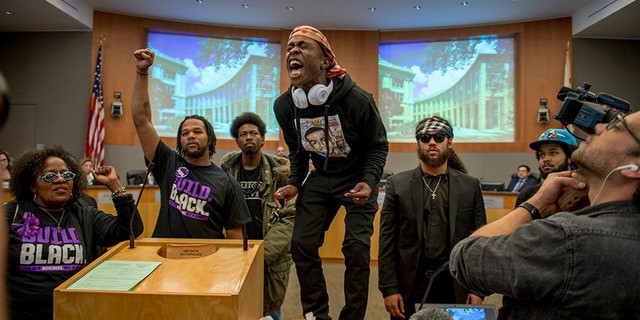 Chaos erupted as protesters banged on windows and yelled "Stephon Clark!" throughout the city hall chambers — and at one point, Stevante Clark jumped on the dais and shouted, "Shut the f--- up," at Mayor Darrell Steinberg, the Sacramento Bee reported.
In tears, 10-year-old Terrell Wilson addressed the City Council about why he feared the police.
"All he had was a cellphone," the boy said, according to The Los Angeles Times. "Twenty shots over a cellphone."
Protesters soon marched from City Hall to the Golden 1 Center, home of the Sacramento Kings, and blocked the entrance to Tuesday night's game against the Dallas Mavericks. Most fans were prevented from entering and the team later released a statement saying refunds would be given. Some fans who arrived early were let in and allowed to move down into the lower bowl of the arena. Although no official attendance was given, the crowd was estimated at around 4,000.
That was twice the number of people who were allowed in last Thursday when activists from Black Lives Matter similarly protested, forming a human chain around the arena and delaying the start of the Kings' game against the Atlanta Hawks.
The California attorney general's office Tuesday joined the investigation, a move Sacramento Police Chief Daniel Hahn said he hoped would bring "faith and transparency" to a case that he said has sparked "extremely high emotions, anger and hurt in our city."
Attorney General Xavier Becerra's office announced it would provide oversight of the investigation and conduct a review of the police department's policies and use-of-force training. The decision of whether to bring criminal charges against the officers involved remains with District Attorney Anne Marie Schubert, although Becerra said his office could also bring charges.
Black Lives Matter Sacramento said protesters have called for criminal charges against the officers who killed Clark.
Players from the Kings and the Boston Celtics on Sunday wore T-shirts with Clark's name, along with the phrase: "Accountability. We are one."
For that accountability, Clark's kin are leaving that to their faith.
"We trust in a spiritual realm, in our Creator, to give us undiscovered strength," Gordon said.
"We will make it through this. And that's the thing, 'cause it's bigger than us and we have to accept that. We carry that torch for Stephon."
The NAACP and the National Action Network said a two-hour funeral for Clark is set to begin at 11 a.m. Thursday at Bayside of South Sacramento Church. The Rev. Al Sharpton, president of the National Action Network, is set to speak along with other clergy.
The NAACP said a wake is set from 2 p.m. to 7 p.m. Wednesday at Bayside of South Sacramento Church.
The Associated Press contributed to this report.