Ohio State police officer hailed hero for quick reaction to campus attacker
An Ohio State police officer was being hailed a hero for his quick reaction after killing a man a minute after he drove his car into a crowd and then stabbed multiple people Monday.
Officer Alan Horujko, who had only joined the department in January 2015, was responding to reports of a nearby gas leak when the suspect jumped a curb on campus at around 9:52 a.m.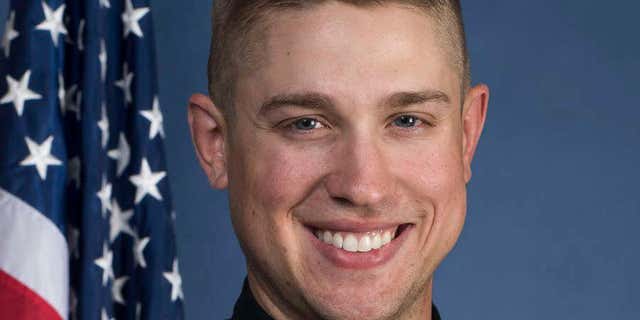 Horujko ordered the attacker, later identified as Abdul Razak Ali Artan, to drop the butcher's knife and then shot him when he didn't obey the command, university president Michael Drake said.
"The officer encountered the individual by 9:53 — the subject was neutralized by 9:53," Drake said, underscoring how quickly events unfolded.
Director of Ohio State's Department of Public Safety Monica Moll echoed Drake's sentiments, saying Horujko is owed a debt of gratitude.
"He did a fabulous job today," she said.
University police Chief Craig Stone said it was fortunate Horujko had gone to investigate the gas leak at the same time the attack was unfolding. It helped him respond quickly to the attacker.
Artan, 18, plowed a small gray Honda into the crowd outside Watts Hall, an engineering classroom building. Two law enforcement sources told Fox News that Artan came into the United States as a Somali refugee, and was granted status as a legal permanent resident.
The motive behind the attack is still unclear, but law enforcement sources told Fox News the FBI was examining a Facebook post that may have been written by Artan earlier Monday. The post appeared to condemn U.S. military action in Muslim countries.
Mayor Andrew Ginther called Horujko an "outstanding young law enforcement officer.
"There has never been a more dangerous or complicated and challenging time to be a police officer, and we had a dynamic well-trained professional today save the lives of many of our residents and students," Ginther added.
Horujko, 28, was placed on administrative leave Monday and the investigation turned over to Columbus police, consistent with protocol for police shootings. Horujko appears to be an avid runner, with several half-marathons under his belt, according to online race results.
Gov. John Kasich praised the speed with which Horujko and other officers acted.
Kasich, a Republican, described the response as "an unbelievable, amazing and outstanding and heroic performance on the part of our first responders."
The university police department is accredited by the Commission on Accreditation for Law Enforcement Agencies. It has officers on the main campus in Columbus and on regional campuses in Lima, Mansfield, Marion, Newark and Wooster.
The Associated Press contributed to this report.