Ohio officer forced to shoot K9 partner during attack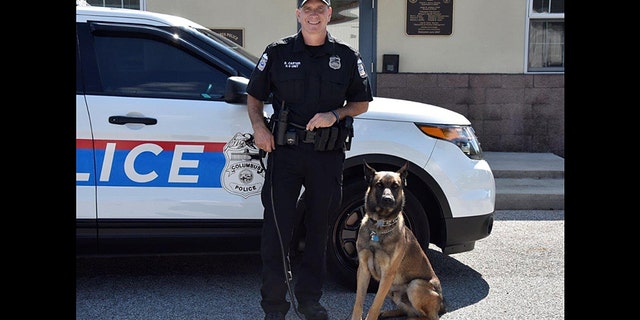 An Ohio officer shot his police dog after it attacked him, leaving him with serious bite wounds, the Columbus Police Department said.
Officer Brian Carter underwent surgery at a hospital and K9 Benzi, a 3-year-old Belgian Malinois, was humanely euthanized.
"Benzi was more than Officer Carter's K9 partner," the Columbus Police Department tweeted Saturday evening. "He was a member of the Carter family. They are all in our healing prayers during this difficult time."
K-9 EXPOSED TO HEROIN IN JAIL IS ADMINISTERED NARCAN
Carter was correcting Benzi's behavior through verbal commands at the department's K9 office Saturday morning when the dog suddenly turned on him, a Columbus Police spokesperson said in a news release.
"Officer Carter received serious bites to his arms," said the spokesperson who was not identified. "He then fired upon the K9."
Carter went to the hospital after a tourniquet was used to control the bleeding.
SUSPECT STABBED K-9 DOG UNDER BOTH EYES, POLICE SAY
Benzi was put down by a vet, the officer said.
In March, Benzi was credited with catching an Ohio State campus area burglar in a post on the Columbus Police Department's twitter page.
It was the first time a Columbus officer has had to shoot a K9 partner, according to the spokesperson.