Ohio man charged with providing gun to shooter who killed 2 officers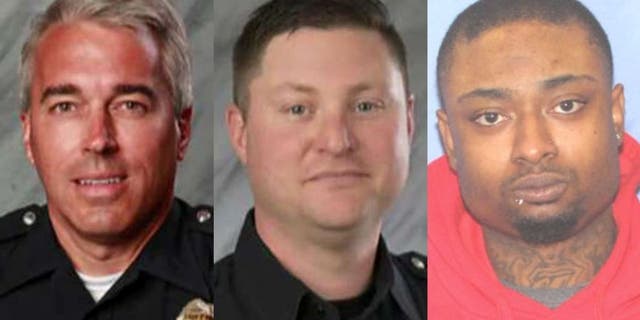 A man was charged Monday with providing the gun used to kill two veteran policemen in Ohio Saturday, authorities said.
Gerald Lawson, 30, of suburban Cleveland, is accused of buying the handgun for shooting suspect Quentin Smith last summer.
Smith gave Lawson the money to buy the gun along with $100 for completing the transaction, according to a criminal complaint filed against Lawson in federal court Monday.
As a felon convicted previously of burglary, Smith was prevented from having a weapon.
Lawson and Smith were longtime friends, and Lawson knew Smith couldn't have a weapon, investigators said. A social media post by Lawson after Saturday's shooting "referenced the long-standing friendship between the two," according to the complaint by ATF agent Teresa Petit.
Community tips, social media posts and a gun trace led authorities to Lawson, said Ronald Herndon, an agent with the Bureau of Alcohol, Firearms, Tobacco and Explosives.
Lawson, his hands and feet shackled, appeared briefly in federal court Monday in a hearing where he was not required to enter a plea. A bond hearing was set for Wednesday.
It was not clear whether a lawyer had been appointed for Lawson. The lawyer identified by a federal magistrate as Lawson's attorney told The Associated Press he has not yet been retained.
Westerville police officers Eric Joering, 39, and Anthony Morelli, 54, were responding to a hang-up 911 call at Smith's townhome Saturday when they were shot, police say. Smith also was wounded and remained hospitalized.
Westerville police had gone to Smith's townhome where he lived with his wife, Candace, for domestic disputes three times since September, and neighbors said they frequently fought.
Smith, 30, is charged with two preliminary counts of aggravated murder. He could be indicted on formal charges including the possibility of a death sentence because the victims were police officers killed in the line of duty, said Franklin County Prosecutor Ron O'Brien.
Smith was sentenced to three years in prison in 2009 on a burglary conviction with an added enhancement of having a gun. He left prison in 2011 and was released from parole, called community control in Ohio, in November 2013, according to the Ohio Department of Rehabilitation and Correction.
Municipal court records didn't show an attorney for Smith.
The Columbus lawyer who represents Smith and his wife in a bankruptcy case said he was shocked by the news. Smith was cooperative, polite and personable during meetings about his case, attorney Mark Herder told the AP on Monday.
Hundreds watched Monday from streets and highway overpasses as the officers' bodies were escorted to funeral homes in suburban Westerville, northeast of Columbus.
Joering had been a Westerville officer for 17 years; Morelli had been a member of the force for 30 years, Fox News previously reported.
"We're very thankful for our family, friends and the Westerville community. We feel loved and blessed, and we are appreciative of the outpouring of support. We have seen and heard so much from people who have shared stories about how our men impacted their lives. They will be so greatly missed, not only by us, but by everyone they touched," the families of Morelli and Joering said in a statement to Fox News. "Our men were dedicated officers for certain, but we knew them as dedicated fathers and husbands. When they were home, they were home. They left work at work. We are so sad that Eric will not see his three daughters graduate from high school. We're devastated Tony will not be able to walk his daughter down the aisle at her wedding."
A charitable fund created for the families of the officers has raised more than $270,000 in a day. The GoFundMe site organized by a central Ohio Fraternal Order of Police chapter was created after Saturday's fatal shooting.
Monday, Gov. John Kasich ordered flags flown at half-staff at Ohio public properties until the officers are interred.
The Associated Press contributed to this report.