Ohio county health department accused of promoting unsafe sex with ad campaign
The campaign has been pulled after some critics argued the coaster's messaging promotes unsafe sex and poor-decision making
A local health department in Stark County, Ohio is facing backlash after releasing a campaign designed to promote its services during the coronavirus pandemic.
The agency purchased coasters to hand out in bars and restaurants that read, "We're here in case you have too much fun tonight!"
The move, however, has led some critics on social media to accuse the health department of promoting unsafe sex and poor decision-making, arguing the campaign suggested the clinic would refer people to abortion or the morning-after pill.
FDA SET TO ANNOUNCE GREATER RESTRICTIONS FOR COVID-19 VACCINE: REPORT
In response to the negative feedback, The Stark County Health Department has pulled the campaign, saying in a statement that the goal was "not to offend but to appeal to the audience that most utilize our services."
"We know that reproductive health and wellness services in general stimulates a lot of different opinions but our public followers took the words out of context and not as a tool to bring attention and awareness to a certain population that would benefit greatly from our services and who may not receive any other kind of medical care otherwise," The health department's director of administration and support services, Kay Conley, told FOX News. "Our goal is for our community to have access to supportive and confidential reproductive health and wellness health services to be healthy and safe."
"We certainly have lessons learned and realize additional steps we need to take prior to implementing the next campaign strategy," Conley added.
COFFEE MAY HELP COLON CANCER PATIENTS' LONGEVITY, STUDY FINDS
Conley said the health department is currently discussing plans to repurpose the coasters if it all possible after spending more than $800 to produce 5,000 coasters.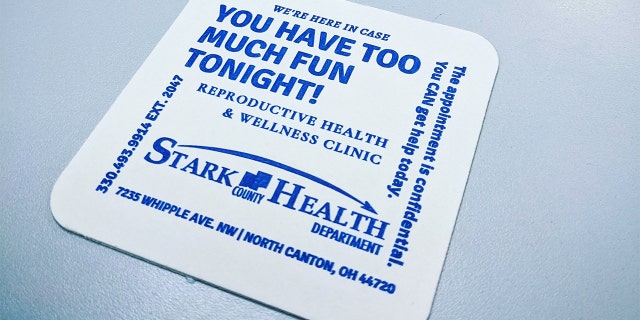 She also noted that the campaign was approved by a grant funded through the state, which does not allow the funding to be used towards performing, promoting, referring, or supporting abortion as a method of family planning.
The health deparment, which is eligible for $181,322 in funding, must serve 641 patients this year, according to Conley.
The clinic provies provides health exams, breast exams, testing for sexually transmitted diseases, cancer screenings and testing for pregnancy and treatment related to reproductive health.
CLICK HERE TO GET THE FOX NEWS APP