North Carolina boy's body found by FBI in pond, death believed to be 'accidental'
A body found Saturday in a pond is believed to be that of a 4-year-old North Carolina boy who went missing on Wednesday, federal officials said.
The FBI Charlotte field office said Raul Gonzalez Johnson's body was found in a pond off Pea Ridge Road in Laurinburg, N.C., located just over the South Carolina border.
Scotland County Sheriff Ralph Kersey said at a news conference that authorities believe the death is accidental.
"This is the outcome everybody feared. It is heartbreaking," Kersey told reporters, as his voice cracked and he struggled to speak during the news conference.
Kersey said the child's body has been sent to the Scotland County Medical Examiner's Office to confirm identity and to determine a cause of death, but added that he and another investigator had met the boy last year so they knew what he looked like.
WOMAN'S DISMEMBERED BODY FOUND BOILED ON KITCHEN STOVE, COPS SAY
The sheriff said he had met the 4-year-old at the sheriff's office in the past, and even held him at one point, according to FOX8. Kersey described him as a timid, sweet child who loved life.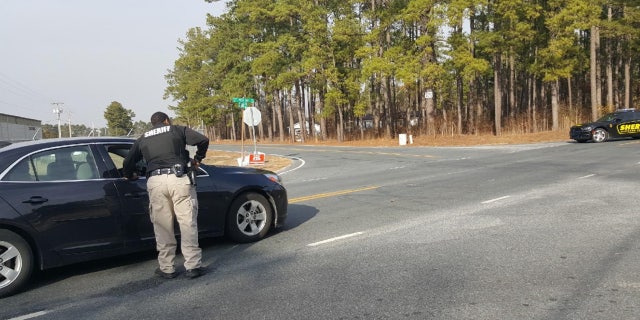 "We will continue the investigation until we find out what happened to this little boy," Kersey said at a news conference.
The child's body was found in the pond near where he was last seen on Wednesday. The 4-year-old wandered away from his home where he was being watched by his grandfather. He was wearing a tiger-striped T-shirt and pajama pants with a rocket ship design, FOX46 reported.
The home is about 2,000 feet from the South Carolina line.
SUITCASES IN CAR CONTAINED WOMAN'S DECAPITATED, DISMEMBERED REMAINS, POLICE SAY
The child's disappearance prompted a statewide Amber Alert on Wednesday, and more than a dozen ground crews had combed through the area looking for the child. The FBI said more than 40 law enforcement, fire, search and rescue, and volunteer agencies were involved in the hunt for Raul.
Investigators had drained about 8,000 gallons of water from the pond before they came across the body.
The Associated Press contributed to this report.