New World Trade Center recognized as tallest building in US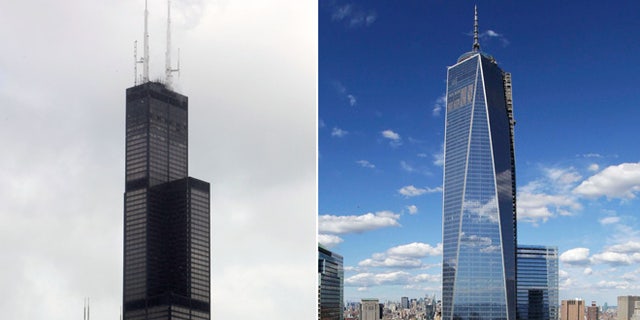 An expert committee of architects has announced that New York's new World Trade Center is the tallest building in the United States at a height of 1,776 feet, surpassing Chicago's Willis Tower.
The Height Committee of the Council on Tall Buildings and Urban Habitat announced its decision Tuesday morning at press conferences in New York City and Chicago.
The committee is recognized as the final arbiter of building heights around the world. It had been weighing whether a design change meant the needle atop 1 World Trade Center is part of the actual building or merely the equivalent of a broadcast antenna.
The committee announced Tuesday that the needle was a spire, and therefore, a part of the actual building. Twenty-five members of the group met in Chicago on Nov. 8 to debate the height of the building.
"To us it's not very fuzzy it all," said Timothy Johnson, chairman of the council.
Johnson said as the members came out of a room after they agreed that 1 World Trade Center is America's tallest building, they realized they "had [made] a little part of history in this decision."
The tower built on the site of the 9/11 attacks is a symbolically important 1,776 feet tall with the 408-foot needle. It would be 1,368 feet tall without it, shorter than the 1,450-foot Willis Tower in Chicago.
One World Trade Center's 1,368 feet height without the needle also holds symbolism; it is the height of the original World Trade Center.
The designers originally had intended to enclose the mast's communications gear in decorative cladding made of fiberglass and steel.
But the developer removed that exterior shell from the design, saying it would be impossible to properly maintain or repair. Without it, the question was whether the mast was now primarily just a broadcast antenna.
Under the council's current criteria, spires that are an integral part of a building's aesthetic design count. Broadcast antennas that can be added and removed do not.
The new World Trade Center tower remains under construction and is expected to open next year.
"The challenge is now back with Chicago—can you build another bigger building?" Johnson asked.
The new World Trade Center is now the fourth tallest building worldwide, behind Dubai's Burj Khalifa, at 2,717 feet tall, Shanghai's Shanghai Tower, at 2,074 feet tall, and the Makkah Royal Clock Tower in Mecca, which stands at 1,972 feet, according to Emporis.
The Associated Press contributed to this report.